I thought collecting family memories of President Kennedy would be fitting on this 50th anniversary of his death. I will begin with my own memories and post recollections of other family members in the coming days.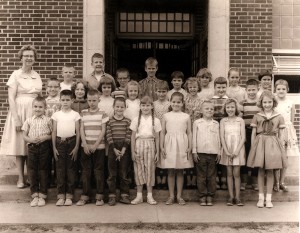 As a young girl attending E. E. Morrison Grade School in Great Bend, Kansas in the early 1960s, most of my recollections of the Kennedy administration have to do with the push for physical fitness and space exploration. My "emotional memory" of the time is that our young president brought a sense of vigor and energy to the country, and a striving to reach for the stars – or at least the moon.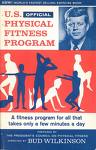 Even before taking office, JFK made the President's Council on Youth Fitness one of his priorities. Although authorized by President Eisenhower, it was Kennedy who asked us school children to increase our strength and speed and endurance. I remember not liking this very much as I was not athletic and suddenly, it seemed, we were asked to do a number of physical fitness tests. And we did lots of running (the first time I remember getting a "stitch" in my side), jumping jacks, sit ups and other exercises and we had to climb those darn ropes hanging from the ceiling. I never could do that! Yet – I did feel a sense of participation in making our country stronger by being stronger. I was running because the President wanted me to run. It was my civic duty.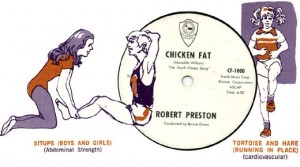 When I was looking for information about this, I rediscovered the Chicken Fat song. The name didn't sound familiar at first, but when I listened to the song, I remembered it. Once you've heard it, how could you forget it? The JFK lIbrary website says this about the Chicken Fat song:
"The oddest contribution to the effort may have been the "Chicken Fat" song. Meredith Willson, creator of The Music Man, wrote the song. It was sung by Robert Preston, the star of the musical. "Chicken Fat" was produced in a three-minute, radio-friendly version and a six-minute version to accompany schoolchildren during workout routines. The song didn't get much airplay, but the chorus of "go, you chicken fat, go!" was ingrained in the memories of tens of thousands of children doing sit-ups in school gyms around the country."
I'm not sure if my teachers played this or why I know it, but I assume I learned it at school. I asked my Facebook friends if anyone remembered the Chicken Fat song and got these responses:
* Remember it well from my days @ Bowie Elementary in Corsicana. (Texas)
* I remember "Go, you chicken fat, go!" That's about my only recollection. (Kansas)
* I remember this from my elementary school days in Daly City, Californa. I think we all really liked to exercise to it! Go, you chicken fat, go!
* I used this song endlessly when I was teaching kindergarten 1965-68. "Go you chicken fat, go! I had my own record, and played it in the classroom. (Iowa)
* I remember exercising to it on a daily basis at school and "go chicken fat, go"! (Texas)
* Can still sing along every word of Chicken Fat. My mom bought me the 45 because I loved it at school so. Music Man was one of my favorite movies so I loved that Robert Preston sang it. There was a shorter version that didn't involve getting down on the floor. It was on the flip side of the 45. The shorter version was what we usually did at school. This was at Highland Park Elementary here in Austin in 1963-64. (Texas)

Space exploration also played a big part in our national consciousness during the early 1960s. I'm not sure, but our teachers may have brought their own portable black and white televisions from home and we watched every launch and re-entry in our dimly-lit classrooms. It was the first time I think we were ever allowed to watch television at school and this imparted a great sense of the significance of space travel and exploration.
It is often said that everyone remembers where they were or what they were doing when an event of great historical significance or tragedy occurs. My own memories of the day President Kennedy was assassinated are vague. I had just turned 10 about a month before. I have learned from school mates that we were sent home from school due to a furnace malfunction. So, unlike most school children around the nation, we did not hear the news at school.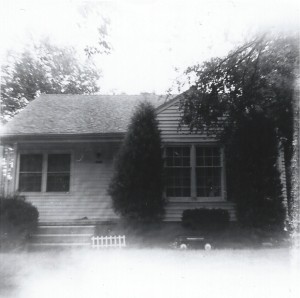 I remember being in my bedroom in our little house in Great Bend, Kansas with my best friend – those windows on the left side of the house were my room. My friend Cathy and I think I turned on the radio for us to listen to music and instead we learned that the president had been shot. We must have gone to tell my mother and then watched the live coverage on television in the living room.
We watched the television more than usual for the next few days – the replay of the shooting, the long lines of people waiting to pay their respects, the funeral procession, the President's children …. just as every one remembers from those days. It was a sad time and the first in a series of assassinations that chipped away at the innocence and optimism of a generation.
Did you exercise to the Chicken Fat song? Were you inspired by the space program? Where were you when you heard the news about President Kennedy?
Memories shared by other family members coming soon!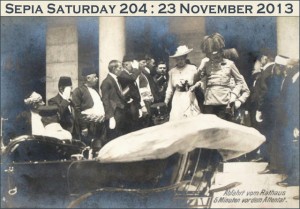 I wrote this before I decided to link up with the Sepia Saturday prompt for this week, but it fits the bill.
JFK is remembered by the Webber branch of my family here.
My memories of the space shuttle Challenger disaster are here.
And please pay your respects by visiting the historical accounts of other Sepia Saturday participants here.