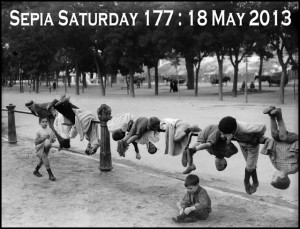 Sepia Saturday provides bloggers with an opportunity to share their history through the medium of photographs. Historical photographs of any age or kind become the launchpad for explorations of family history, local history and social history in fact or fiction, poetry or prose, words or further images.
Turning on bars was the favorite recess activity for the girls in my class at Morrison Grade School in Great Bend, Kansas.
My family moved to Great Bend in the fall of 1961, after school had started. It was my second new town and new school in just a few months. I was assigned to Mrs. Nossaman's third grade class. In my mind's eye, my view of Mrs. Nossaman is from left of center, about half-way back from the front. I sat between Susan and Ruth.  Susan always looked a little unkempt and I thought her family must not have much money. Ruth was quiet and poised, but seemed fragile. She had had scarlet fever and couldn't run around and play with us at recess. I thought that James, who lived down the street from me, was mean. I thought that John, who shared the same last name with me, was cute.
I'm just left of center in the middle row – light colored hair pulled back and still styled in ringlets and wearing a white blouse with a little clock design printed on it.
To my left in the picture is the girl who had become my best friend, Katie. Our backyards abutted an alley and she lived a couple of houses down on the corner lot. Every morning I walked through my back yard; turned left down the alley; stuck my hand through the chain-link fence that surrounded her back yard so I could pet her pug, Sir Cedric Pogo III (aka Po); and then went to her front door to get Katie for our walk to school.
Mrs. Nossaman had the perfect cursive handwriting expected of an elementary school teacher. She enforced the rules of her classroom and set high expectations. I don't remember why exactly, but something about our relationship got off on the wrong foot. She must have called attention to me as the new kid in some way – for not following a class rule or something. Now that I think about it, it may have been my confusion at how to spell or pronounce her name.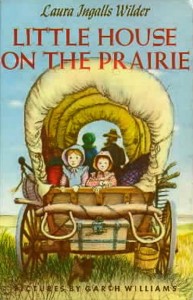 The wonderful thing I remember about Mrs. Nossaman, though, is that she read to us every day without fail. She sat at her desk or stood at the front of the class and read to us, one chapter at a time, from Laura Ingalls Wilder's "Little House on the Prairie." I fell in love with Laura and Ma and Pa and the books about them. And I could forgive Mrs. Nossaman for being kind of mean because this was my favorite part of the school day.
As you can see from the picture above, all of the girls are wearing dresses or skirts except for the girl front and center – clearly a girl ahead of her time. Since the turning bars were the domain of the girls at recess, the issue of us hanging upside down in our dresses was a matter of great concern to our teachers and the subject of school yard chants by the boys. A rule for recess was established that any girl wearing a dress was not allowed on the turning bars unless she was also wearing shorts or slacks under her dress. Sometimes girls forgot to wear the extra layer of clothing and would try to sneak in a turn or two on the bars without being seen by a teacher – or tattled on by someone who would like to see them get into trouble… because it was no fun to stand idly by and watch your friends playing on the bars.
Just look at the long line of children on the bars in the prompt picture if you have any doubts.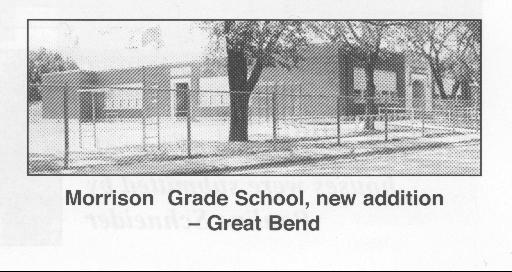 The class portrait above was taken in front of the door that faces this playground. You can see monkey bars and one of those bars you swing across with your hands (what do you call those?) and an open playground that we used for P. E. I remember playing field hockey, softball, and Red Rover there. I also remember sitting and waiting for my turn and one of the girls asking, "What's wrong with your legs?" because I had bright purple capillaries on my thighs even at that age.
The turning bars we played on are not visible in this picture. They were in a play area on the other side of the building. Our bars were taller than those in the prompt photo. We turned facing forward like the children in the picture. We turned with one knee hooked over the bar. We turned backwards from a sitting position and flipped over onto our feet. And sometimes we just hung upside down by our knees.
I completed 3rd through 5th grades at Morrison Grade School and had barely started 6th grade when we moved again.
I don't have a picture of my 4th grade class. I can't remember the name of my teacher. I can't remember what she looked like. I can't remember who was in class with me. I have only a few vague impressions of that year. I think I would have no memories at all if I had no photographs!
Thankfully, I have a picture of my 5th grade class to help me remember that year. And, although I do remember the names of the kids I wrote about, I changed them.
One of the first posts I wrote for this blog was about 1st grade: 1st Grade Hairstory: Ringlets, a Peeled Onion, and a Clueless Boy.
There's the bell! Run on over to the Sepia Saturday playground and see what everyone's playing today.