Every Saturday Mom shampooed my hair in Grandma Eveline's kitchen and followed up with a vinegar rinse. I didn't much care for the smell of the vinegar, but it was supposed to leave my hair squeaky clean. I always ran my fingers across a strand of hair to be sure it squeaked. It did.
Mom would comb out my hair and divide it into little sections that she wrapped around her index finger, then secured the long curls with a couple of bobby pins. If I was lucky, the bobby pins held my curls in place through the rest of the day and through the night giving me a head full of ringlets for church on Sunday morning.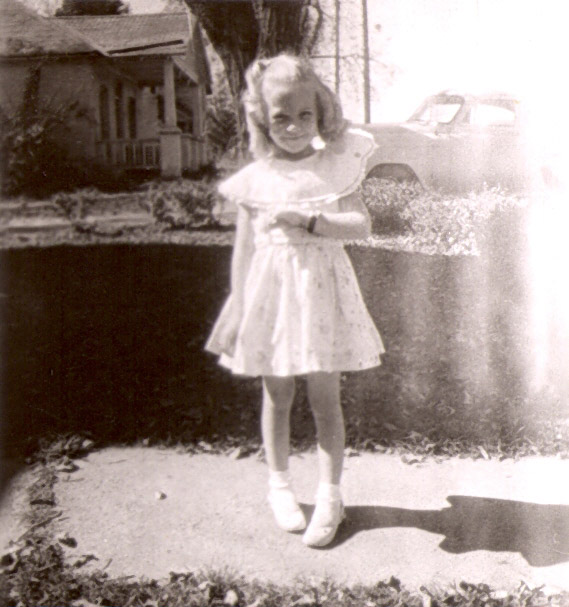 On school days, it was Grandmother Eveline who got me ready for school and my hairstyle changed from ringlets to a ponytail. My fine hair tangled easily and when I got up in the morning, it was a mess. Grandma had a large, pearl blue comb that she used on me. And when I say "used on me" I mean more than just using it to comb my hair. The fact is, Grandma didn't have much patience for my complaints. Every time I said "Ouch," I got a little whack on the head with that blue comb.
I liked my ponytail and imagined myself as stylish as the teenaged girls on TV. Grandma didn't think my ponytail was particularly flattering. She told me more than once that I looked like a "peeled onion." I'm thinking maybe she was right….
At school, we played chase (boys vs. girls) nearly every day during recess. A boy with the last name Applegate was my boyfriend because I was the girl he always chased – and I would then chase him in return. That pretty much sums up our relationship. I also thought about his name a lot. It seemed unusual to me and I spent a good bit of time wondering what an apple gate would look like. Had his family been famous for their apples? Would an apple orchard have a fence around it with a gate? Maybe a white picket fence and a white gate with an arch. Or perhaps a black iron gate. Or maybe just plain wood. I preferred the white.
Anyway, I ran around the playground with my ponytail swinging until the day came when it was decided that I should get a haircut. I showed up at school the next Monday morning, proud of my new shorter hairdo with bangs. No more peeled onion look for me! I wondered what my boyfriend would think.
Imagine my disbelief when Mr. Applegate made his way to the teacher's desk and asked her about the NEW GIRL! Had a haircut made me unrecognizable? Had he not paid enough attention to me, his girlfriend, to know what my face looked like? Did he prefer the looks of this "new girl" over …. me? Was he planning to chase HER on the playground?
1st Grade Hairstory lessons:
1. Keep your mouth shut when Grandma is combing your hair.
2. Avoid looking like a peeled onion.
3. Beware of boys who are always on the lookout for their next girlfriend, who don't care enough about you to know who you really are, or who simply don't have a clue.
*****   *****   *****
Do you have a 1st Grade (or any age) Hairstory?
Share it here. Share it somewhere.