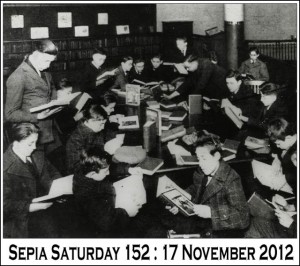 Sepia Saturday provides bloggers with an opportunity to share their history through the medium of photographs. Historical photographs of any age or kind become the launchpad for explorations of family history, local history and social history in fact or fiction, poetry or prose, words or further images.
All those books!
I could begin with a picture of the stacks of books I have purchased but still haven't read. Libraries, book stores, used book stores, estate sales, book jackets, jacket-less books, amazon.com – they all call to me! Read this! Read me! And some that I have already read join in and call, "Read me again! You know how much you love me!"
Seems like I spend a lot of time reading blogs these days and very little time with my books. The stacks grow taller.
I do love books and places where there are books. But I don't recall having many books when I was a child. Only a few, I think.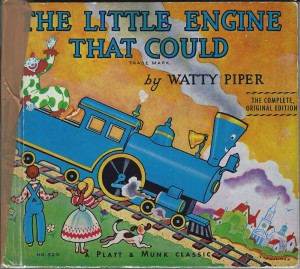 One of my favorites was – and still is – "The Little Engine That Could". I love the illustrations. And, like all kids, I loved the repetition. And the story of the little engine that succeeded because of kindness, hard work, and determination.
I no longer have the book I read as a child, but I have the one I read to my children.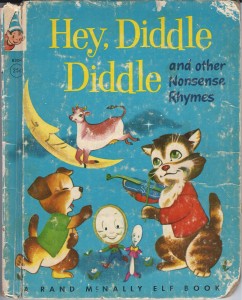 I also enjoyed this book of nursery rhymes. But this book stands out for another reason. When I was little, I sometimes had trouble going to sleep. There were snakes under my bed and monsters lurking in the dark. I would feel afraid and unable to close my eyes and fall asleep. I found a mental image that helped me overcome these feelings and nudge me to a restful state. It was the image of monkeys running around in a tree and acting silly. I think I got the idea from this book.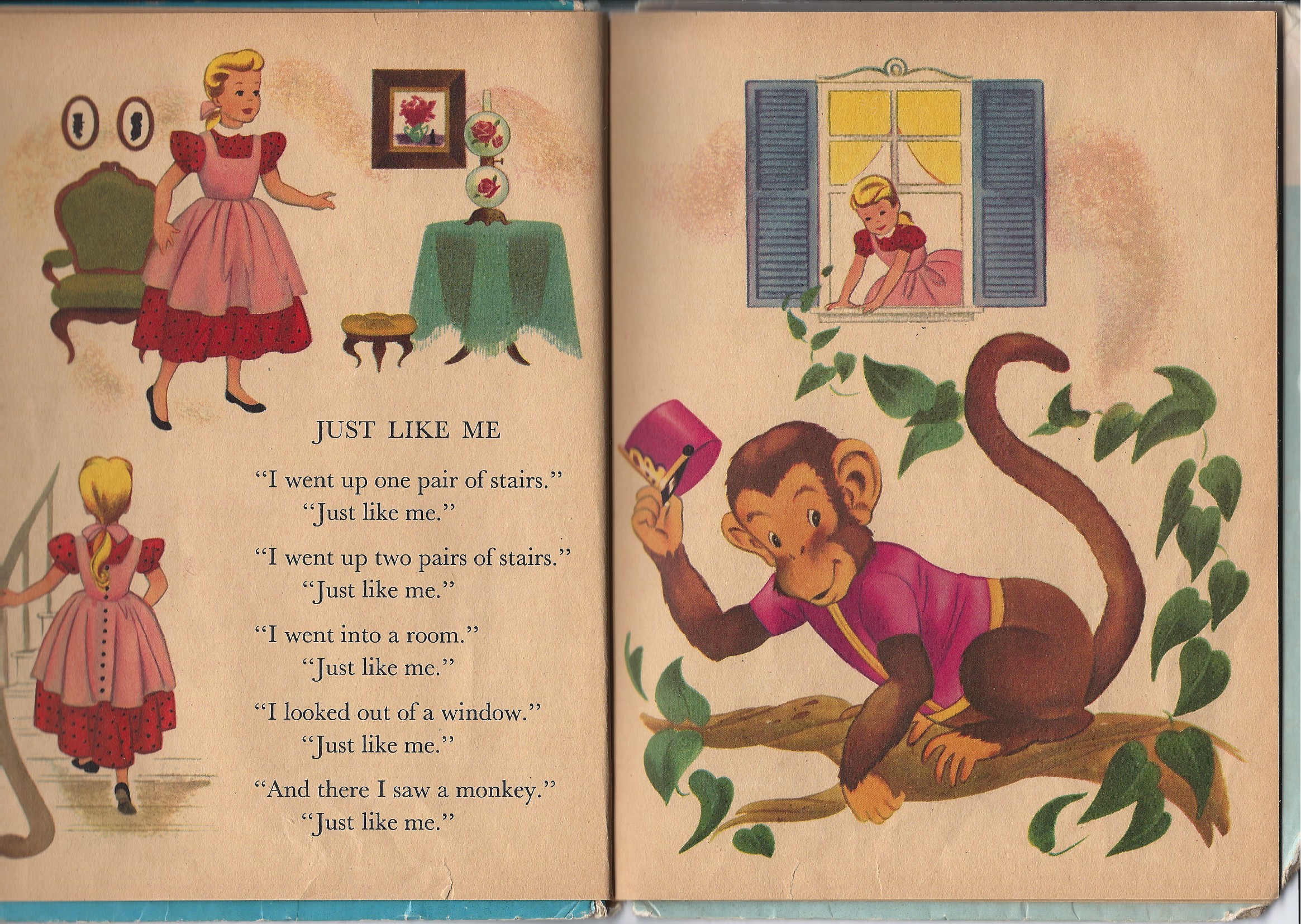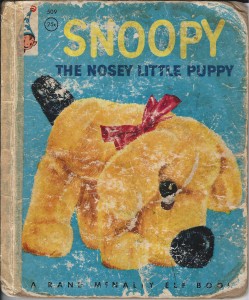 And then there is the story of "Snoopy – The Nosey Little Puppy" who was rescued from the pound. I was going to scan all of it to add here, but I had some little sisters who did a lot of scribbling in it. Let's just call this one well-loved.
Another book I remember owning is one I no longer have nor can I remember the title or the name of the main character – although I did for many years. It was red, with the cloth library-type cover and simple black line drawing on the cover. The story was about a little girl who went to the circus alone for the first time. She bought cotton candy as soon as she arrived and then couldn't find her ticket. The story was about her going from place to place and person to person, trying to find her ticket – which was, of course, stuck to her cotton candy. Not sure why I liked or remembered this book, except that, as I said, I didn't have very many. If this story sounds familiar to anyone, I'd like to know!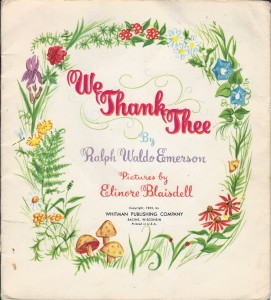 Since American Thanksgiving is next Thursday, I'll close with one last book from my childhood – although I really don't remember it. Guess it wasn't a favorite.
It claims to be an illustrated version of a poem by Ralph Waldo Emerson. The Ralph Waldo Emerson Society, however, has this to say about the poem:
This three-stanza, 21-line poem has long been attributed to Emerson, but is definitely not by him. No author has been discoverd. It is widely reprinted in hymnals, and has been published separately as We Thank Thee (Racine, Wisc.: Whitman, 1955) and Father, We Thank You (New York: SeaStar Books, 2001).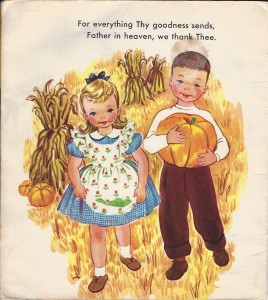 It is always good to count one's blessings!
If you would have preferred something that included a sepia photograph or two, I invite you to view a post I wrote about my great uncle who lived by his motto: If you can read, you can do anything. It fits the theme pretty well.
Please turn the page to the Sepia Saturday blog where you can read what other bloggers have created for today's prompt.