This week, I celebrate the 155th birth anniversary of Mary Ellen "Nellie" Coates. It is my grandmother Eveline's handwriting that identifies Nellie by her married name on the photo below.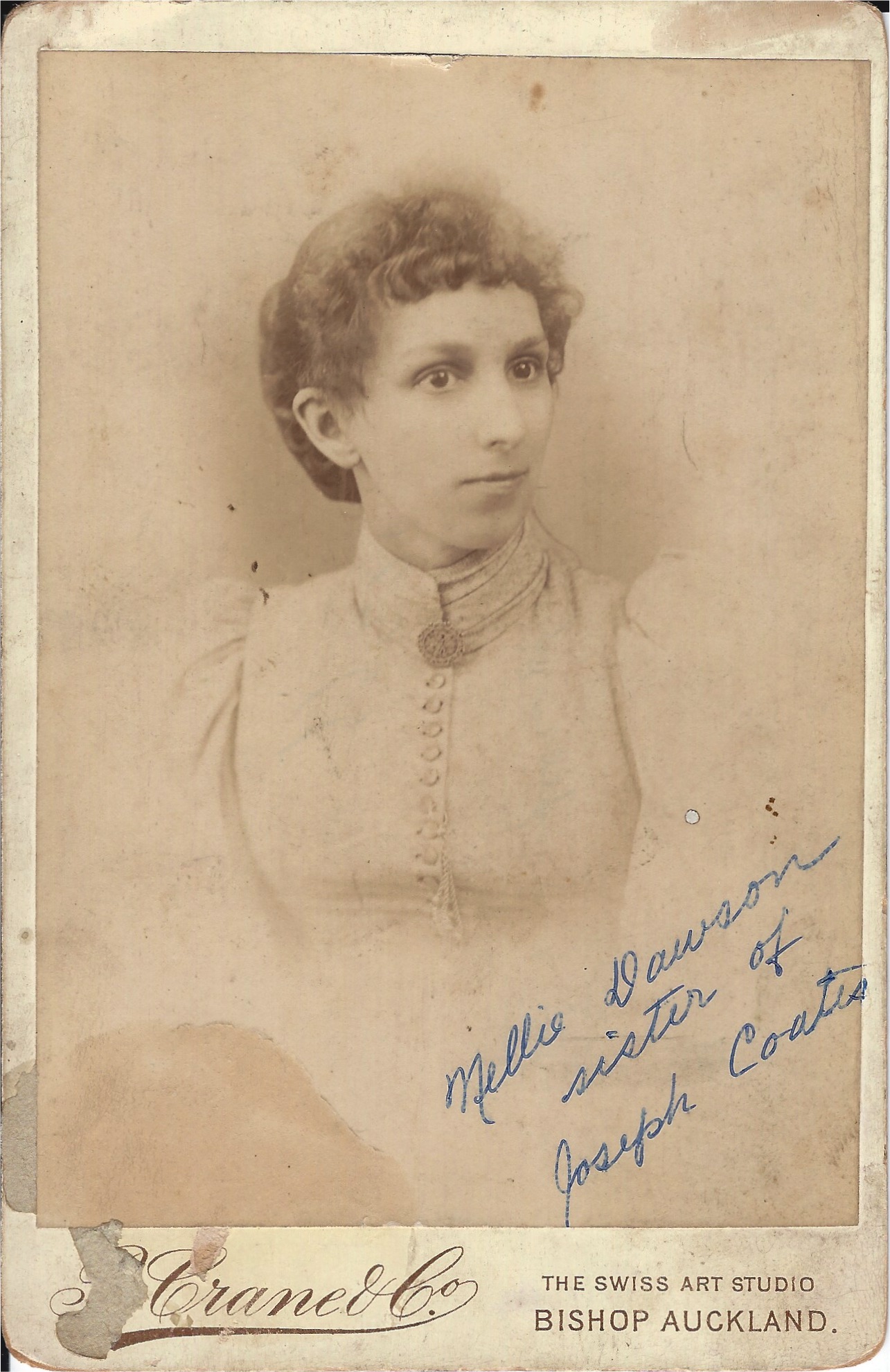 The little I know of Nellie is pieced together from a few photographs, a copy of a letter she wrote, a couple of references to her in letters written by others, and records found online.
Nellie, the older sister of my great-grandfather Joseph Coates, was born March 30, 1863 in Willington, County Durham, England. John Coates, her father, was 23 and her mother, Eleanor Richardson, was 18 at the time of her birth. Younger brother Joseph was born when Nellie was four and sister Jennie (Jane Ann) came along when Nellie was twelve.
The 1871 England Census shows parents John and Ellen, daughter Mary Ellen, and son Joseph residing in the village of Willington. Nellie's father is employed as a Joiner, possibly at Brancepeth Colliery, as that is where son Joseph was born three years earlier.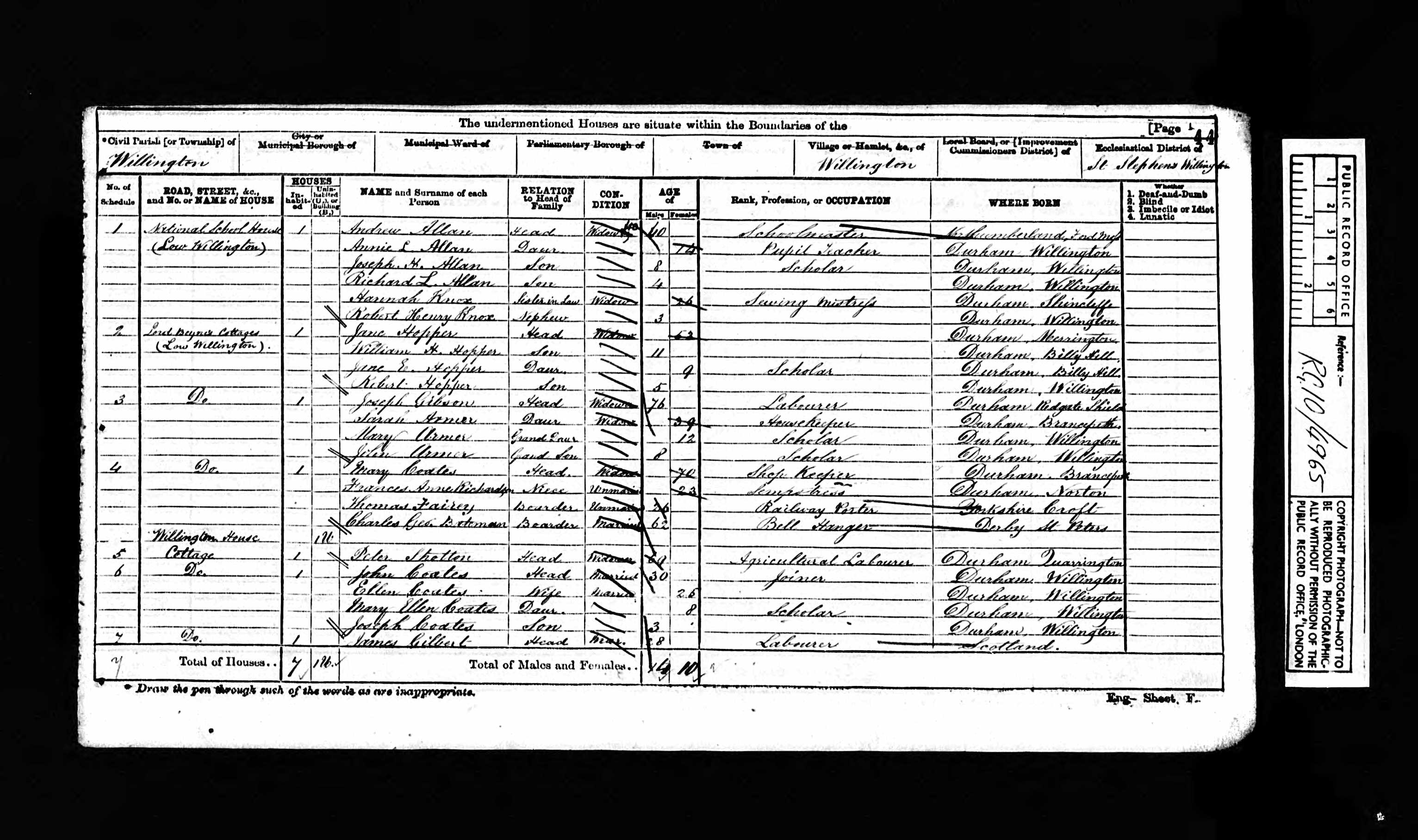 At first I thought the family lived in Willlington House, but on third reading, I think Willington House was vacant and the family lived in one of Lord Boyne's Cottages, #5, to be exact. I've become quite distracted by Lord Boyne and his cottages and Willington House, and on and on. I must let it go for now.
I have yet to find Nellie in the 1881 or 1891 England Census. Her parents, brother, and sister were living together on Low Willington in the village of Willington – but no Nellie. I found an Ellen Coates in 1881(age and birth place match), working as a servant at 4 South Bailey, Durham. This sighting took me on another excursion through the internet to learn about The Bailey. If I could verify this person as my Nellie, it would give her residence/employment a connection to Prince Harry and Alice in Wonderland. I'm not comfortable making the call in favor of "Ellen" just yet. So many rabbit trails on this Easter weekend!
Nellie married Robert Dawson 1886-87. Nellie's brother Joseph, my great-grandfather, emigrated to the United States in 1889, making it likely that he was present at Nellie's wedding. I am happy to know this, as Joseph never saw his birth family again once he crossed the Atlantic.
The photographs below of Nellie and her husband may have been taken at the same time – they were at least taken at same photography studio.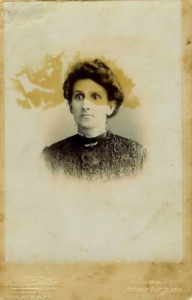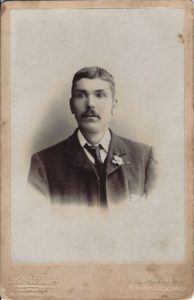 In 1901, Nellie and Robert were living on Briggs Yd. in Willington with four children: 14-year-old  Edith, 8-year-old Joseph, 6-year-old Ida, and 2-year-old Hilda.
The 1911 England Census shows Nellie and her husband, both age 48, residing at 11 Low Willington, Durham. Three daughters, Edith age 24, Ida age 16, and Hilda age 12 live at home. The census records seven live births, but four of Nellie's children were deceased by 1911; this would include her son Joseph. Robert is employed as a laborer in a mine. Hilda, the youngest daughter, attends school. Nellie's widowed father, 71-year-old John Coates, is found on a separate census page at the same address. The five Dawson's residence is described as three rooms; father John's residence is described as one room. John is employed as a cartwright at a colliery. At seventy-one!
The photograph below is identified as 11 Low Willington. Unfortunately, the people are not – of course! I've always thought this might be John Coates and one of Nellie's girls or another granddaughter, but now I'm wondering if this is an older Robert Dawson with one of his granddaughters. Another mystery to solve!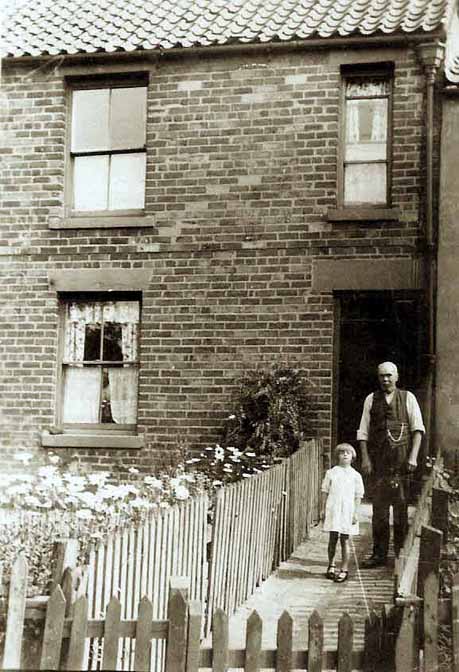 Two photographs of Nellie with a daughter – the same daughter at different ages, or two different daughters?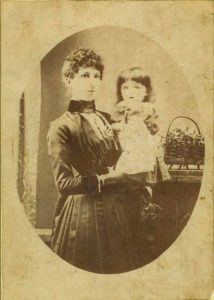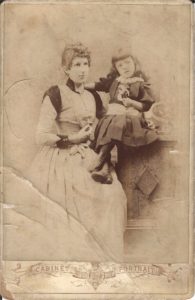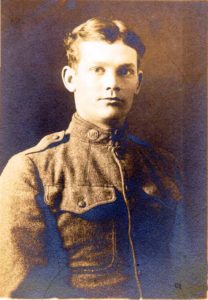 On Monday, May 19, 1919, Nellie wrote a letter to her brother Joseph (Joe) and his wife Mary. Their son John had visited while on furlough during WWI. In the letter, Nellie gives a few details of John's visit and assured his parents that he was healthy and well. John brought a photograph of his parents with him. Nellie is surprised at the change in her brother's appearance and wants a better photograph of the two of them. Because she made note of the sun in their eyes and Joe's mustache, I wonder if this is the photograph in question.
The next record of Nellie is a letter written by her sister Jennie to my grandmother Eveline in April of 1939.
"I am sorry to say my sister is in poor health, she cannot walk, and has to be lifted in and out of bed, and her husband has had strokes, which have left him very childish, my sister is 76 gone March 30th. They are living with Hilda, the youngest daughter and her husband, she has 2 little girls, it is a lot of work for Hilda, as she is not very strong. They are living at Hunwick now, they left Willington 3 or 4 years ago."
In November – no year, but I think 1939, Jennie wrote another letter to Eveline with this mention of Nellie: "Hilda hasn't much time for writing, your Aunt Nellie is so helpless. they are both to wait on, & the 2 children Freda is 10, & Marjorie 5."
I have yet to find a record of Nellie's death.
Nellie's niece, Ethel Elgey (Jennie's daughter) wrote a letter to my grandmother Eveline in December of 1958. Ethel had received a photograph of Eveline and had this to say:
"You do remind me very much of Auntie Nellie your father's sister. I've never seen such a likeness to her before, it must be a bit of The Coates coming out."
I don't see a great resemblance to my grandmother in these pictures of Nellie. Maybe they grew to look more alike as they aged. Here is Eveline in November 1960 standing behind her son Al, granddaughter Deb, and mother Mary Harris Coates. This may provide a clue of how Nellie looked as an older woman.
Happy Birth Anniversary, Nellie! You have left me with many questions left to answer.
And now I confess that my submission for Sepia Saturday this week in no way resembles the photo prompt, although we could wonder if Nellie ever had a dog.
Pack your bag and head for Sepia Saturday where you will surely find someone who has shared images and stories that resemble this woman and the spotted dog.