Sepia Saturday provides bloggers with an opportunity to share their history through the medium of photographs. Historical photographs of any age or kind become the launchpad for explorations of family history, local history and social history in fact or fiction, poetry or prose, words or further images. If you want to play along, sign up to the link, try to visit as many of the other participants as possible, and have fun.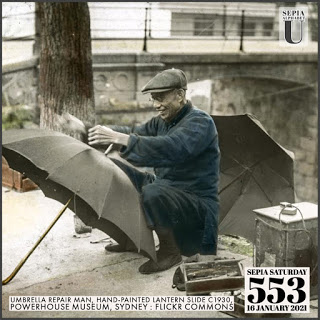 The prompt photo this week features a man repairing an umbrella. I am in short supply of photos that feature umbrellas. The only two I have, I shared in a Sepia Saturday post back in 2013: Umbrellas for Rain, Shine, and Romance
I used one of those umbrella photos again a few months later.
Although not a Sepia Saturday post, it has a Sepia Saturday connection. Co-founder Kat Mortensen helped me locate a book from childhood. The book includes an illustration much like my photo above. See:
A Rediscovered Book from Childhood
I learned the value of having an umbrella handy when I was a freshman in college. On one particular day, I found myself across campus from my next class without an umbrella during a downpour. I must have really needed to attend that day, because instead of heading back to the dorm, I walked as fast as I could to the class. I entered the old building with wooden floors where my German class was about to begin. I lowered my head and mustered my courage as I dripped and sloshed and squeaked, trying to slip quietly into a desk right next to a boy I had just started dating. Puddles formed at my feet as I dripped from head to toe. There was no look of recognition or sympathy from that boy! He didn't recognize me! I took umbrage!
But I married him anyway.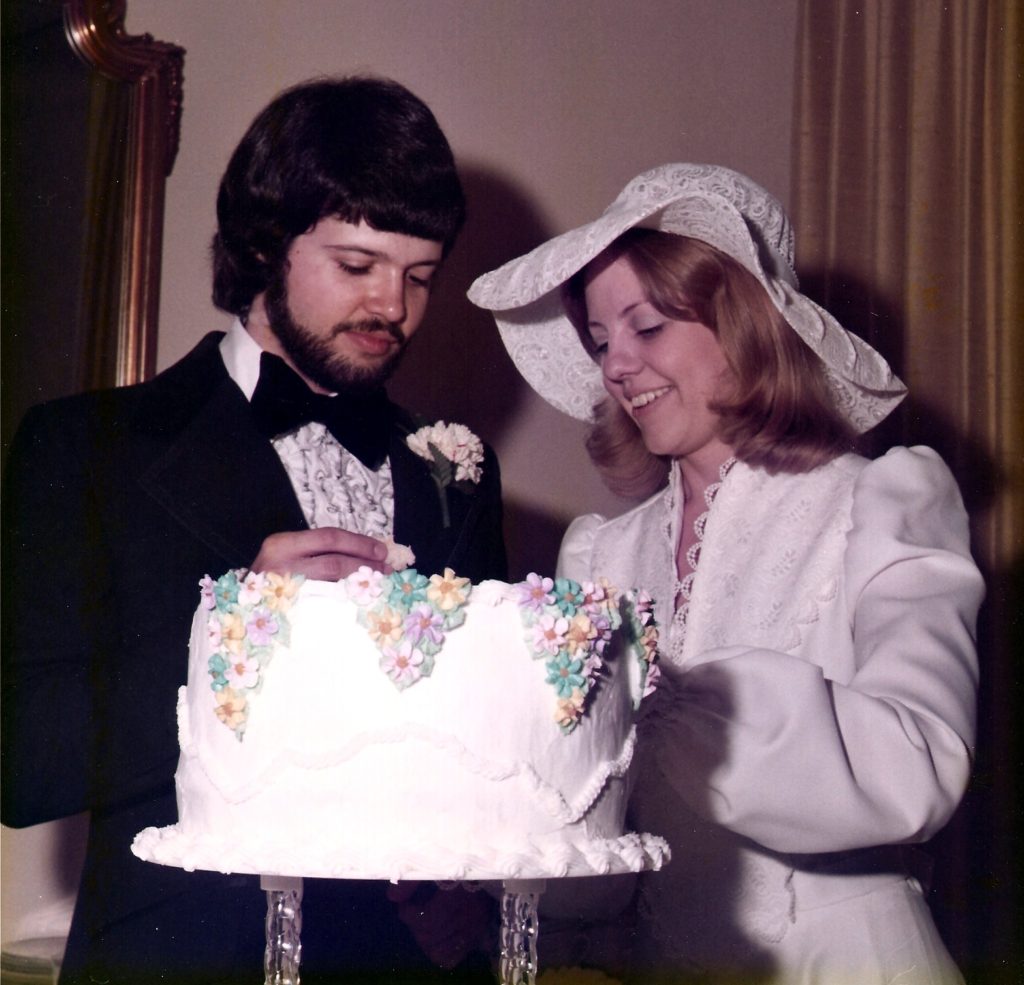 According to dictionary.com:
J.K. Rowling chose the name Dolores Umbridge to reflect her character. Her first name comes from the Latin word for "sorrow" or "pain," dolor. Umbridge is a play on umbrage ("offense" or "annoyance"), which comes from the Latin umbra ("shade" or "shadow"). The word usually appears in the phrase to take umbrage. 
I have dressed up as Dolores Umbridge a couple of times for the Halloween party and class we have for our adult ESL students. That's a quill in my hand.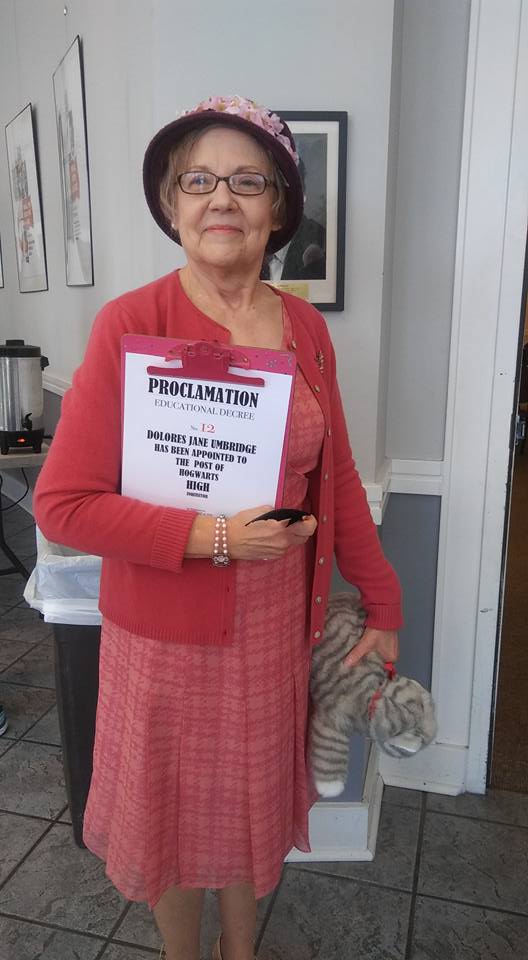 I dressed as Dolores Umbridge for our Halloween class again this year, but since it was on zoom, I only had to be in costume from the waist up and found an image of her office that I could use as a background.
I looked at my family tree to see if there is someone I could feature who has a name that begins with U. Unknown is a fairly popular name in my tree.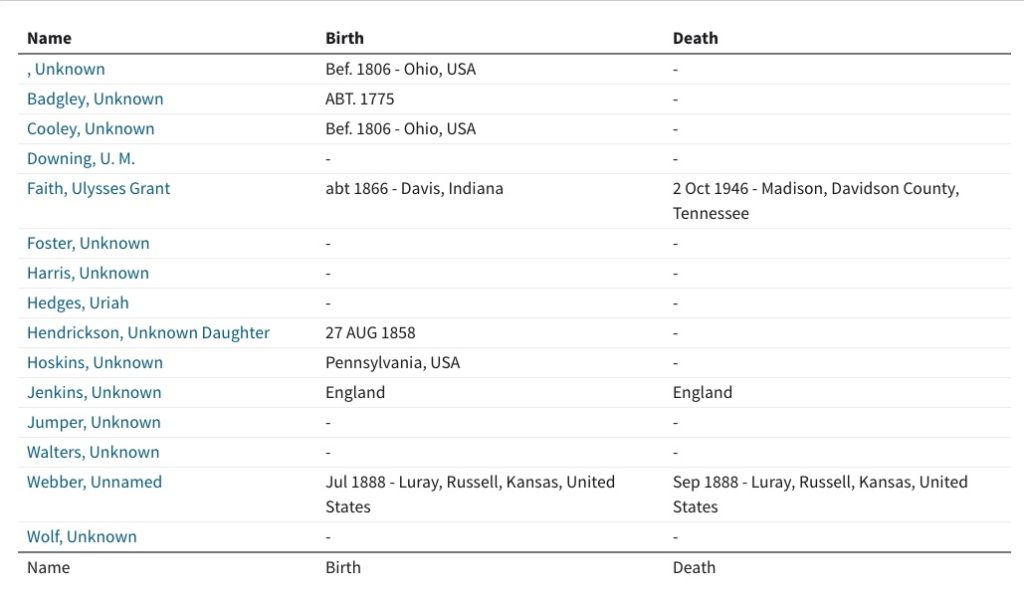 U. M., Ulysses, and Uriah are essentially unknown to me as well due to their distance on the family tree.
One of my family lines is STRANGE, which means unusual. I get very frustrated when I search old newspapers for my kin. STRANGE may be an unusual surname, but it is a very popular word! Here is my 2nd great-grandfather, John Sylvester Strange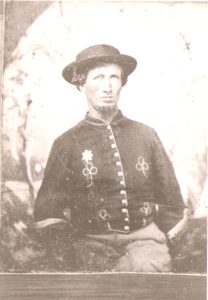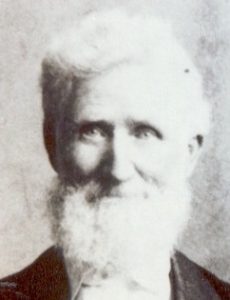 An old meaning of the word umbrage is shade or shadow, especially as cast by trees. There is a family story about one of our Stranges who met his demise in the umbrage of a beech tree. My grand aunt, Woodye Webber, was the family genealogist and wrote two family histories. She recorded the story in Ancestors – Kings? Horsetheives? Or What?
Before going on, a story written during the depression by WPA writers is one we heard many times from Mother. This is about one of Grandfather Strange's  uncles.
The village of Strange Creek was so-named because of the young survivor who was stranded from his companions in the year 1795. No amount of searching for either the party or William was successful. Years later, on the bank of the creek William Strange was found – his bones beneath a beech tree, his rifle leaning against it with the shot pouch dangling from the ramrod. Carved in the tree was the following message:
Strange is my name and I'm on strange ground
And strange it is I can't be found.
Since she mentioned the WPA, I went in search of the story. By googling the entire message carved into the tree, I found it referenced in a couple of modern newspaper stories about name places with unusual backstories. Besides a mention of the story in a couple of other books, I found the passage contained in The WPA Guide to West Virginia: The Mountain State. It reads as follows on page 406:
STRANGE CREEK, 21.3 m. (807 alt., 60 pop.), has its center across the Elk River at the mouth of a stream of the same name. Originally called Turkey Run, the creek was named for William Strange who wandered from a surveying party near the headwaters of the Elk in 1795; his companions searched for him in vain. Years later, on the bank of Turkey Run, 40 miles from the spot where he was last seen, his bones were found beneath a great beech tree, against which leaned his rifle, the shot pouch dangling from the ramrod. Carved in the bark was this couplet:
Strange is my name and I'm on strange ground
And strange it is I can't be found.
Pretty much what Aunt Woodye wrote… although I believe she meant to type surveyor instead of survivor.
Another source, found on the West Virginia Explorer website, Old Legend of Strange Creek Might Never Be Confirmed, provides more details to the legend, as well as the author's attempt to authenticate it and find the location where William is said to have met his lonely fate. This article includes the story as told by a West Virginia historian named Charles Carpenter. Carpenter states that the first printed record of the story appears in the 1876 book History of Kanawha County, written by George Atkinson, who later became governor of West Virginia. Atkinson devoted a full two and a half pages to the story of William Strange and Strange Creek. His description of William is rather unflattering: "Mr Strange was a very indifferent woodsman, and to him was assigned the duty of taking the pack-horse from one camping place to another." Apparently William wasn't very good at following directions and got lost.
I'm not exactly sure where this William Strange should be included in my tree. Woodye said in the quote above that William was one of her grandfather's uncles, but the 1795 date would put him another generation back. In a later family history, Woodye writes a similar story, but names the Strange as Charles. All of the books and articles I found online reference a William. It is all so unclear! Possibly unknowable. Family lore connects him to us and Strange is not the most common surname, so l hope to figure out our real relationship some day.
The story of William Strange is very unfortunate. For some reason, I keep thinking of a song I learned as a child in Girl Scouts:  Under the Spreading Chestnut Tree. It is a much happier tale. Here are some unlikely folks singing along:
Sometimes I begin a Sepia Saturday post unsure of what to write and unaware of where my thoughts and searches may take me. Undoubtably, this is one of those posts.
Please understand that the unique pleasure of Sepia Saturday is visiting all of the participants. U can do that here: Sepia Saturday.