May it go on in heaven above. – Fred Webber
Today marks the 80th anniversary of the marriage of Fred Myron Webber and Carol Richards on August 14, 1932. Fred was my Grandmother Abbie's brother. I put out a request for a wedding picture and received this from their daughter. Thank you!
Fred Webber was highlighted in the Spring 2000 edition of "The Strange-Webber Connection" family newsletter. Family members have given me permission to use stories and memories shared within its pages, so I'll share a couple that reflect on their marriage.
This excerpt explains the title above:
"Carol Webber shared with us the following poem. She explained that, while they were both students at the University of Iowa, she and Fred  went on a picnic with friends. They fetched a bucket of water for the group. Later, Fred presented Carol with the following poem, above which he had mounted a picture of the two of them carrying the pail of water for the picnic."
(Update 5/5/2019 – I recently received the original hand-written poem from one of Fred's and Carol's children and so I happily replace the typed poem from the newsletter with Fred's hand-written verse.)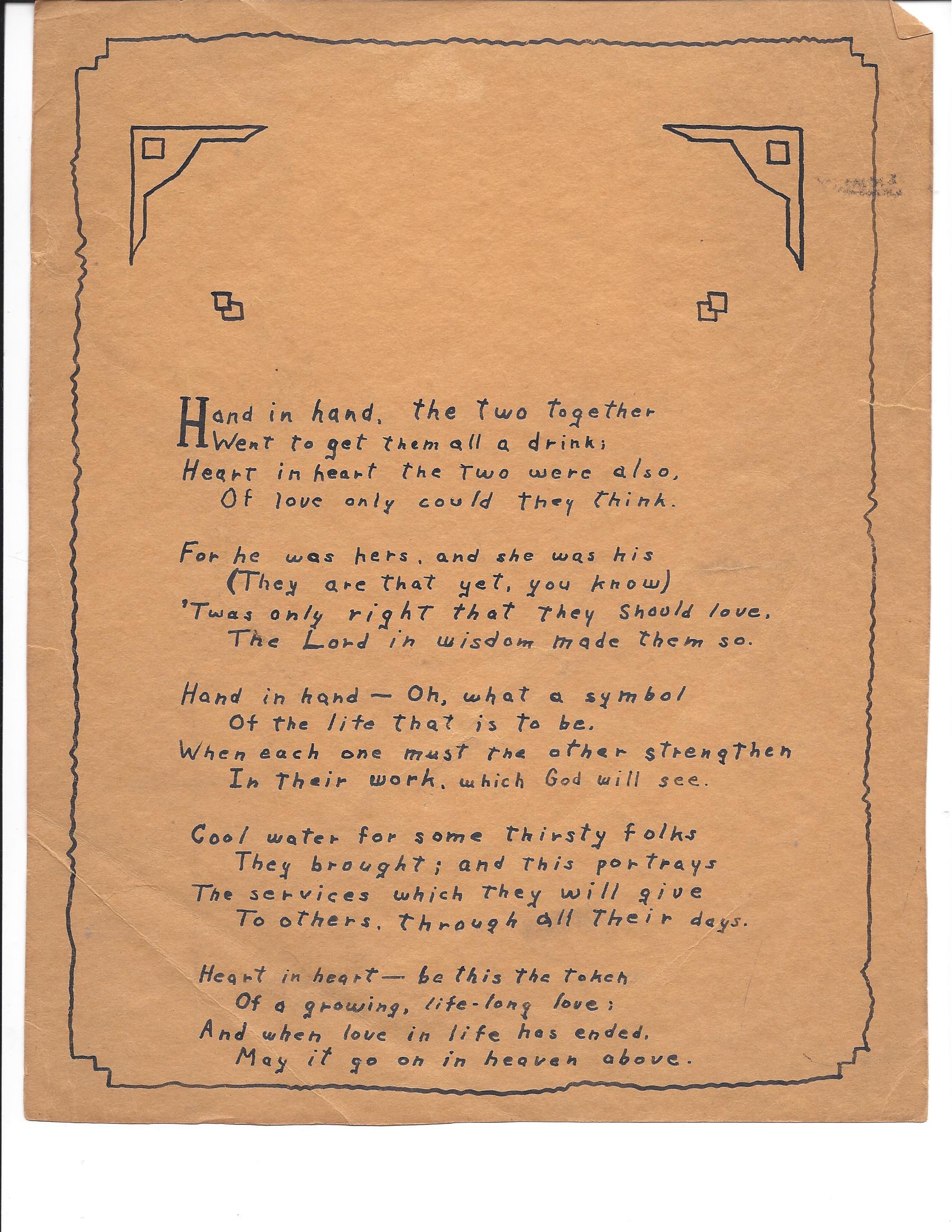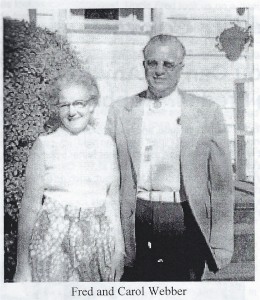 Just four months prior to their wedding, Fred was "publicly ordained to the work of The Gospel Ministry on the fourteenth day of April, 1932, by a Council of Baptist churches, composed of 25 messengers from 14 churches, convened at the call of the Immanuel Baptist Church at Rochester, NY."
Fred's first three pastorates were in Baptist Churches. In 1941, he was received into the Presbytery of Buffalo-Niagra and for the remainder of his career in ministry, he served in Presbyterian churches and other assignments within the Presbyterian Church.
Fred and Carol had four children and were married for 56 years – until Fred's death August 30, 1988.
Also included in the newsletter are memories that Carol Richardson Webber shared about her marriage to Fred.
"After 56 years of marriage, there are many ways in which I remember Fred. I'll try to share a few with you.
I remember Fred as a loving husband and father. He could always find time to help with or check the children's homework, play a game of catch or something. Always ready to drive them and their friends to ball games, etc.
I remember him sitting in his easy chair surrounded by books and papers and doing crossword puzzles in ink.
I remember his devotion to work. He was a student and spent many hours preparing for a service.
I remember him as being able to fix any toy or household item – but always having to go buy a tool before he could do it.
I remember his love of camping and taking pictures. As the children would say, he was "stopping to take a picture on every corner" as we were traveling.
I remember his cluttered desk and how he knew where everything was. I couldn't dust his desk.
I remember his love of music and how he made that a very special part of the church service.
I remember his ability to come up with a joke or a story that he hadn't thought of in years. He had a terrific memory.
I close as I started – remembering him as a loving and devoted husband and father for 56 years."
After reading the above, It seems fitting that the only picture of Fred and Carol that I found among my grandmother's photos was this one of Fred with his camera.
The words of the poem above reflect the life and work that both Fred, as a pastor, and Carol, as the wife of a pastor, envisioned for themselves (or at least Fred envisioned) throughout their life together. Carol has since passed away.
And when love in life has ended,
May it go on in heaven above.