The month of January and a health emergency declared in the northwestern U. S. because of a measles outbreak had me thinking about an uncle I never knew.
This is a continuing series about my uncle Wilbur Thomas Hoskins, who died in 1930 at five years of age due to complications following measles. You can catch up here:
An Uncle I Never Knew – A Tow-Headed Boy
An Uncle I Never Knew – Measles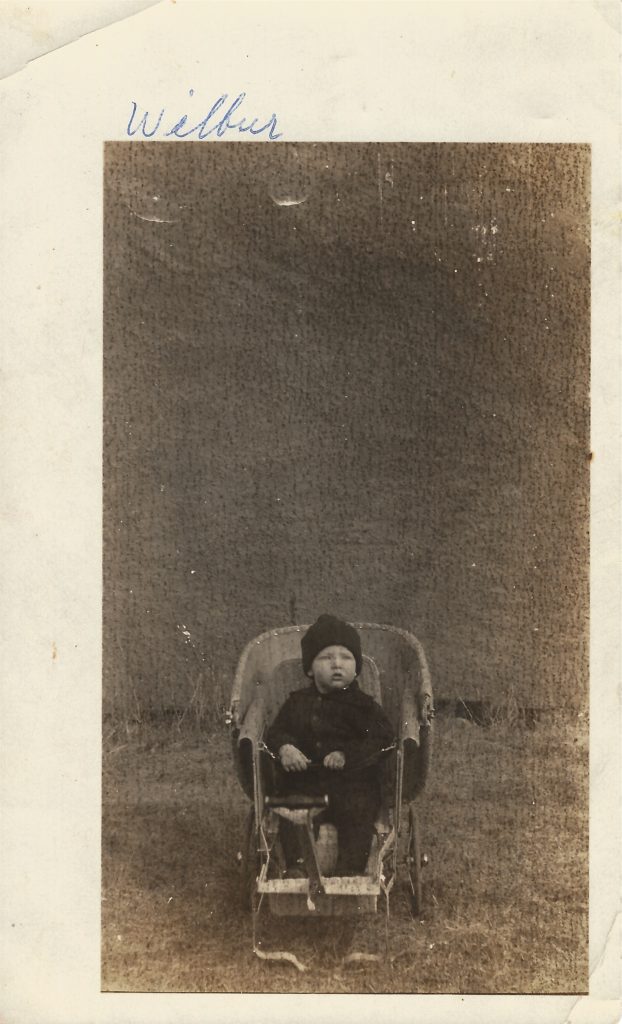 I thought I had this post almost finished, but I'm starting over. I reread some things and did a little more research and hope I'll be able to pull something together. I'm also dealing with a brain that doesn't like screens post surgery and that has REALLY slowed me down!
Yesterday I spent time trying to place my grandparents and their siblings during the time of Uncle Wilbur's illness and death. Wilbur's parents (my grandparents, Tom and Eveline Hoskins) and their siblings were raised in Mystic, Iowa. Most of the men were coal miners. Mining was not always steady work and the Great Depression made matters worse. A few left Mystic for work in Rockford, Illinois. At first, I thought only my grandfather and his brother Warren were in Rockford, but I was wrong. It looks like their sister Ethel may have been the first of the group to settle in Rockford. Ethel and her husband, Mark Bland, make an appearance in the 1927 Rockford city directory along with several members of Mark's extended family.
I'm a little confused by the 1928 city directory. I'm not sure if the Ethel listed as a cashier living at a different address from Mark Bland is our Ethel or someone else.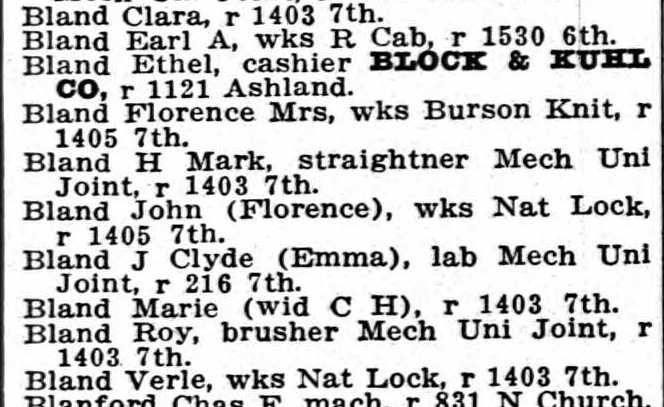 In the 1929 city directory, Ethel and Mark, Tom, and Warren are living at 831 Kishwaukee in Rockford and the extended Bland family is consolidated on Kishwaukee Street.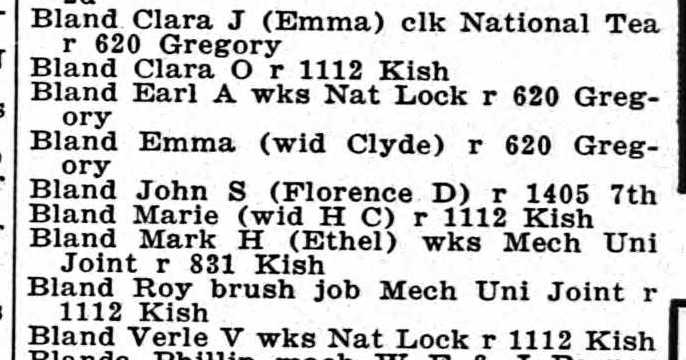 I suspect one other member of Tom's and Eveline's extended family was in Rockford when Wilbur died. I found Eveline's sister Marjorie Coates in the 1930 census in Rockford, although I have not found her in the city directories. A letter from their sister Blanche also places Marjorie in Rockford.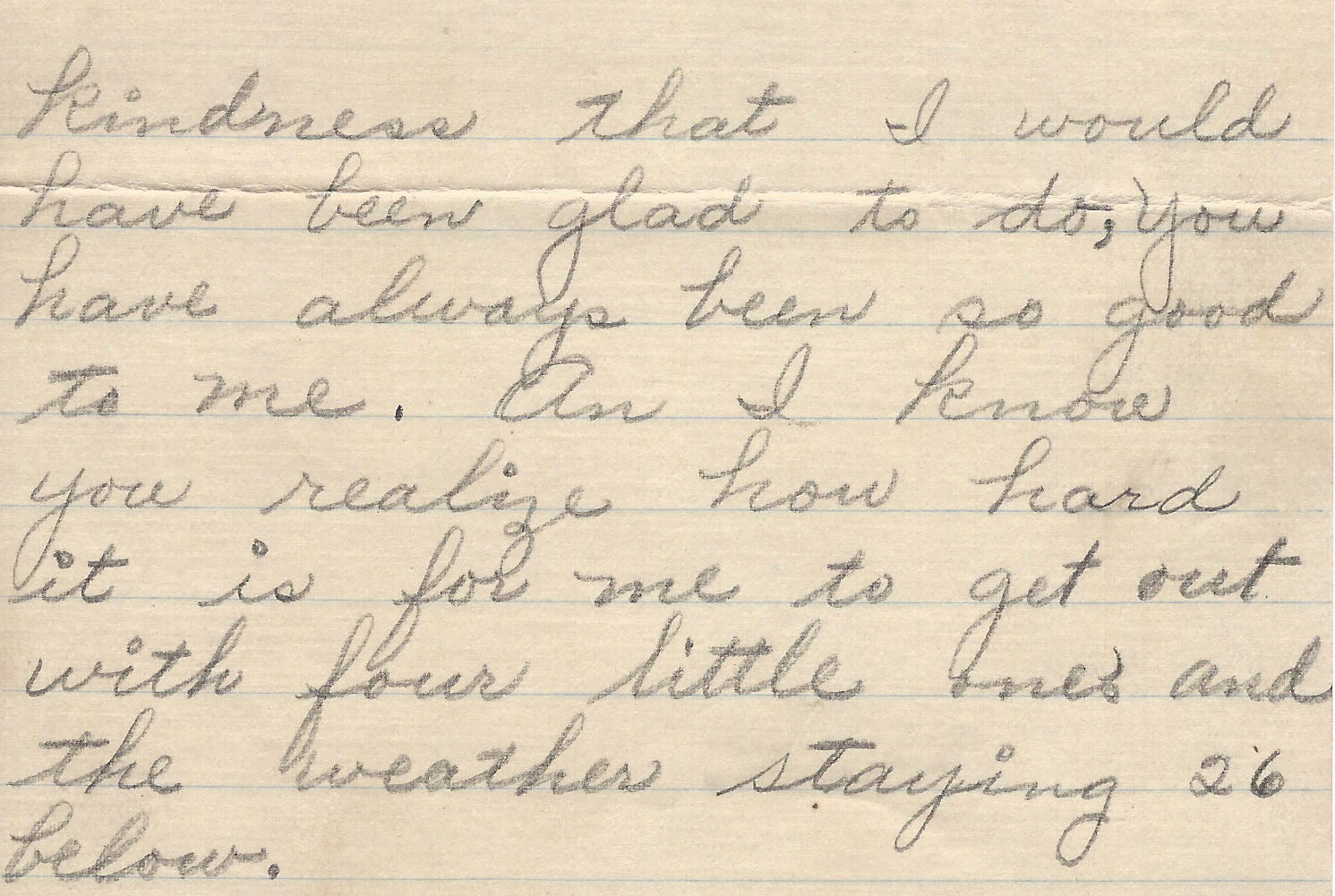 It's been comforting to know that Margie has been with you doing the little acts of kindness that I would have been glad to do; you have always been so good to me. An I know you realize how hard it is for me to get out with four little ones and the weather staying 26 below.
I started trying to piece this together while thinking about the funeral for little Wilbur and wondering who was there. The information recorded in the Funeral Record book is sparse. It does not include the names of those present, or even the date of the funeral. I guess Grandma did the best she could under the circumstances.
I was able to determine the date of the funeral from two sources. The first is a newspaper clipping that is a mixed bag of correct and incorrect information.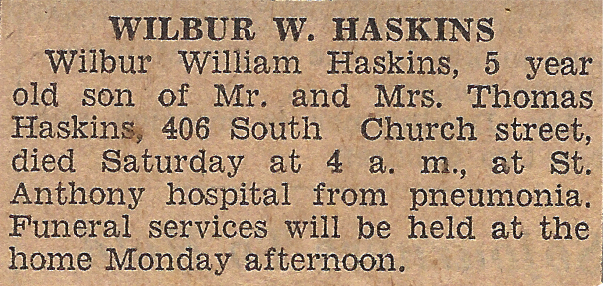 First name correct. Middle and last name incorrect.
Age correct.
Parent's first name correct. Last name incorrect.
Address correct.
Day of death matches death certificate; time does not.
Location of death correct.
Cause of death pneumonia – does not match death certificate.
Day of funeral – Monday
The second is the letter mentioned above from Blanche Coates. The letter is dated January 23rd and confirms that the funeral was held on Monday, January 20th.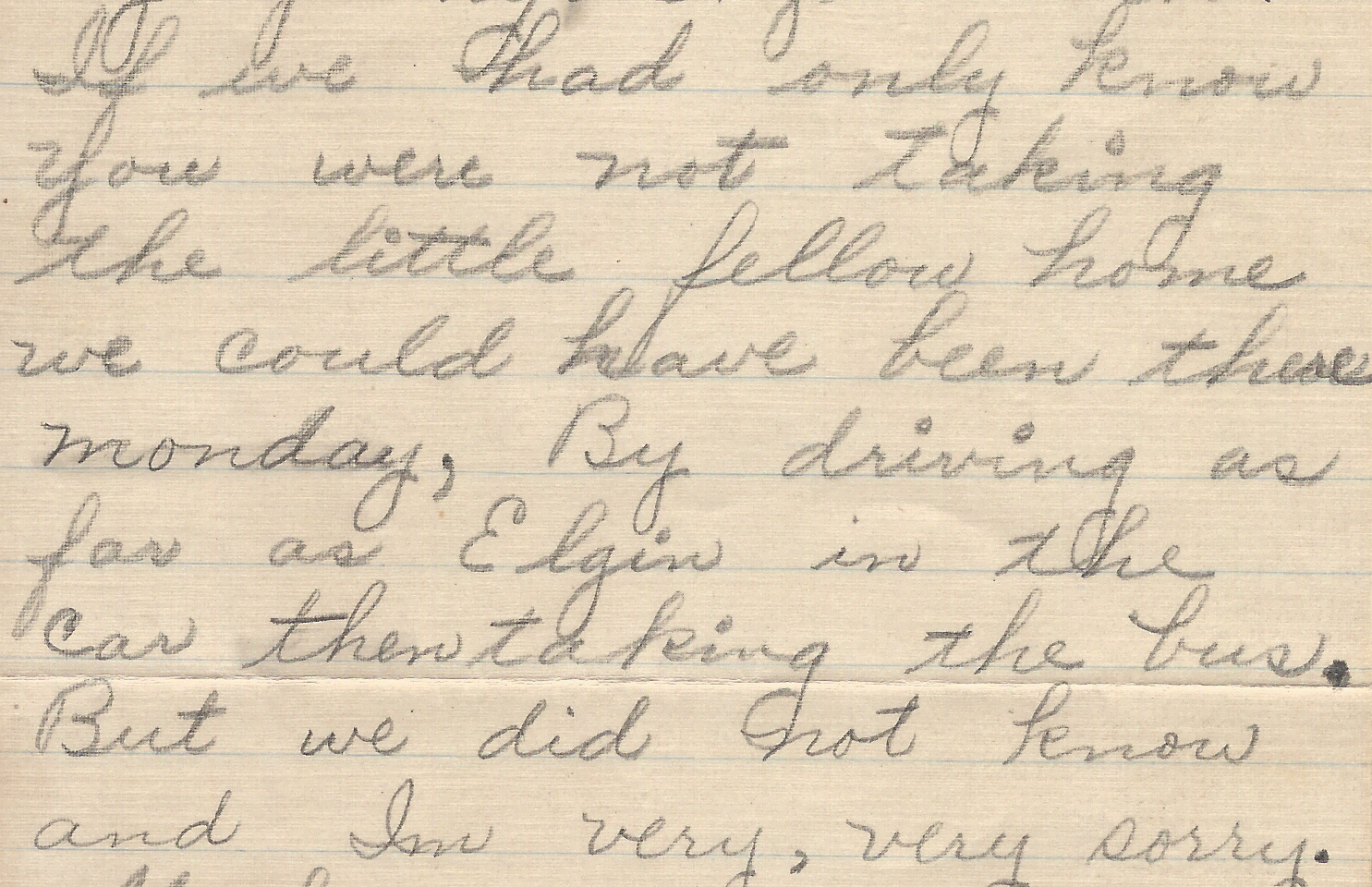 If we had only know you were not taking the little fellow home we could have been there Monday, By driving as far as Elgin in the car then taking the bus. But we did not know and Im very, very sorry.
Blanche Coates and her husband Miles Bankson were living in Wheeling, Illinois when Wilbur died. She assumed her sister's family would take Wilbur back to Mystic for burial and realized too late that they could have made it to the funeral.
My guess is that my that my grandmother Eveline and little Wilbur may have only been in Rockford for a few weeks when he became ill. Ethel and her husband Mark had been in Rockford a couple of years and Marjorie may have left for Rockford sometime in 1929 – or maybe came with Eveline and Wilbur. Most of the extended family remained in Mystic. Google maps gives the distance from Mystic to Rockford as a little over 300 miles and a trip of five hours by car today. Who knows how long the trip took in 1930?
It is comforting to know that there was at least some family with my grandparents during Wilbur's illness and immediately following his death.
This is about all my surgery-rattled brain can put together this week and is my contribution to Sepia Saturday.
Sepia Saturday provides bloggers with an opportunity to share their history through the medium of photographs. Historical photographs of any age or kind become the launchpad for explorations of family history, local history and social history in fact or fiction, poetry or prose, words or further images. If you want to play along, sign up to the link, try to visit as many of the other participants as possible, and have fun.
Please visit other participants at Sepia Saturday.