The month of January and a health emergency declared in the northwestern U. S. because of a measles outbreak had me thinking about an uncle I never knew.
This is a continuing series about my uncle Wilbur Thomas Hoskins, who died at five years of age due to complications following measles. You can catch up here:
A Tow-Headed Boy
Measles
Who was with the family?
Funeral Record
In the funeral record kept by my grandmother, she documented that the clergy who conducted the funeral service for Wilbur was a Salvation Army captain. I contacted The Salvation Army Central Territory Historical Museum to ask a few questions about what the funeral might have been like. Just as promised, I received a helpful email this past Monday from Major Gloria Stepke, Historical Museum Aide. I will quote her email and add some comments.
"It is most interesting to try and understand what a child's funeral would have been like in 1930.  The English speaking officers in Rockford during the time in question were Ernest and Annie Millman.  The Millman's had a teenage daughter and son.  I have tried to recreate this sad and difficult time that your Grandparents went through.  When their son died perhaps a nurse or doctor thought that they needed some assistance in what to do next.  Perhaps that is how they got connected with The Salvation Army.  They had not been in Rockford very long to have found a church(home).  In those days some churches would not do a funeral service for someone who was not a part of that congregation.  During the Depression a lot of people would not have the money for a funeral home service or to buy a burial plot.  Sometimes people donate grave plots to The Salvation Army and they are used for the purpose of burying people who cannot afford a grave plot." 
I think her suggestions ring true – especially that a doctor or nurse may have referred them to The Salvation Army. And, although I found a receipt for a casket, embalming, and hearse, as well as medical bills, I did not find a receipt for a cemetery plot. If my grandparents were offered a burial plot, I know it would have been very helpful to them and much appreciated.
I haven't been able to find any photos of the Millman family, but I found them in the Rockford city directory and census records. Ernest and Annie were both immigrants from England and I can imagine my grandmother feeling a connection to them because both of her parents had also immigrated from England. The Millman's older child, the teenage daughter Olive, is listed in the 1930 census as doing clerical work for The Salvation Army. This leads me to wonder if she might also have attended the funeral to assist, or as a "Lassie" – but that is purely imaginative wondering.
"Now about the funeral service in the home on South Church Street.  I would assume that this was your Grandparents home.  In the early days the deceased person was laid out in a casket/wooden box that was set in the Parlor/living room.  Family members would view the deceased loved one there.  The funeral was held there as well."
"I am not sure what your religious affiliation is but The Salvation Army does not use a liturgical form of service.  The Salvation Army Officer could have read from the Gospel of Mark, chapter 10, verses 13-16, these words,
"People were bringing little children to Jesus to have him touch them, but the disciples rebuked them.  When Jesus saw this, he was indignant.  He said to them, "let the little children come to me, and do not hinder them, for the kingdom of God belongs to such as these. I tell you the truth, anyone who will not receive the kingdom of God like a little child will never enter it."  And he  took the children in his arms, put his hands on them and blessed them."  
If your Grandparents did not profess 'Faith in Christ' the officer might have challenged them to read the Bible and find a church to worship in.  He would have also invited them to The Salvation Army the following Sunday and given them the time for the service.  I am sure they would want to be with their son (again) some day." (My grandparents had an affiliation with a church in their home town, so they would have professed their faith.)
There may have been one or two women to sing during the service, perhaps with accordion or guitar.  The two songs that might have been used are, "In the sweet by and by"  and  "Safe in  the arms of Jesus" 
You can find several versions of "In the Sweet by and by" online, but I chose this one with just the few female voices and simple instrumentation because it seems most like how I imagine The Salvation Army Lassies might have sung – although without the Southern accent.
Major Stepke was kind enough to include the lyrics to both hymns in her email:
Safe in the Arms of Jesus
Safe in the arms of Jesus,
Safe on his gentle breast
There by his love o'ershaded,
Sweetly my soul shall rest.
Hark! tis the voice of angels
Borne in a song to me
Over the fields of glory,
Over the jasper sea.
Chorus
Safe in the arms of Jesus,
Safe on his gentle breast,
There, by his love o'ershaded,
Sweetly my soul shall rest.
Safe in the arms of Jesus,
Safe from corroding care,
Safe from the world's temptations,
Sin cannot harm me there.
Free from the blight of sorrow,
Free from my doubts and fears;
Only a few more trials,
Only a few more tears.
At the grave side The Salvation Army officer would conduct the 'committal' service'.  The singers might sing again.  The officer would say, "As it has pleased Almighty God of His great mercy to take unto Himself the soul of this young boy, we therefore commit his body to the grave (some earth can be thrown on the coffin while this is being said) earth to earth, ashes to ashes, dust to dust; in sure and certain hope of the resurrection to eternal life through our Lord Jesus Christ, who shall change our body, that it may be like unto His glorious body, according to the mighty working whereby He is able to subdue all things to Himself." 
There are no photographs to document the funeral in the home or the presence of Ernest or
Annie Millman or The Salvation Army Lassies. Wilbur was buried at Willwood Cemetery in Rockford, Il. His burial location in Division K Tier 1 Space 1. A few photographs were taken at the graveside.
In the previous post, I noted that there were probably three floral arrangements given in tribute to Wilbur. These three seem to be placed at the the head, foot, and center of Wilbur's grave.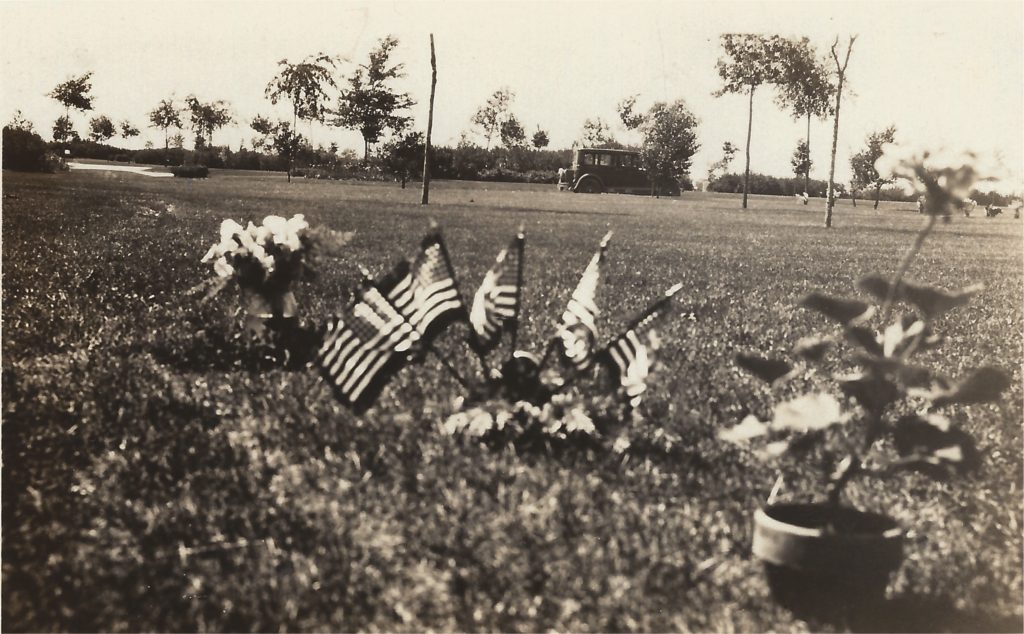 In the background, a car is visible that may have been the hearse – at a cost of $9.00.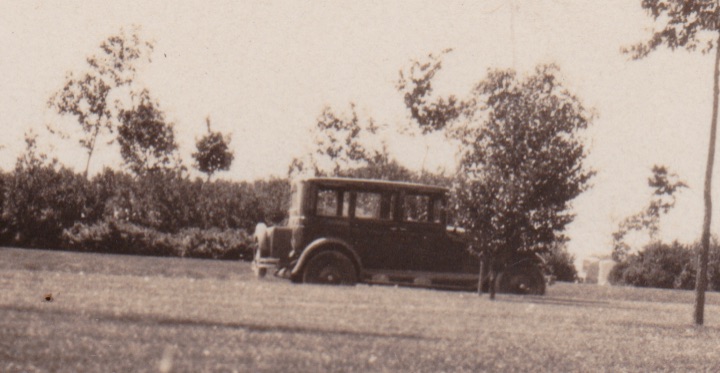 My grandfather, Tom Hoskins, kneeling at his son Wilbur's grave. The center floral arrangement is without the flags in this photo.
Another view of the gravesite, this time with my grandfather and his brother and sister.
One last photo from the burial. Unfortunately, part of my grandfather's head was cut off.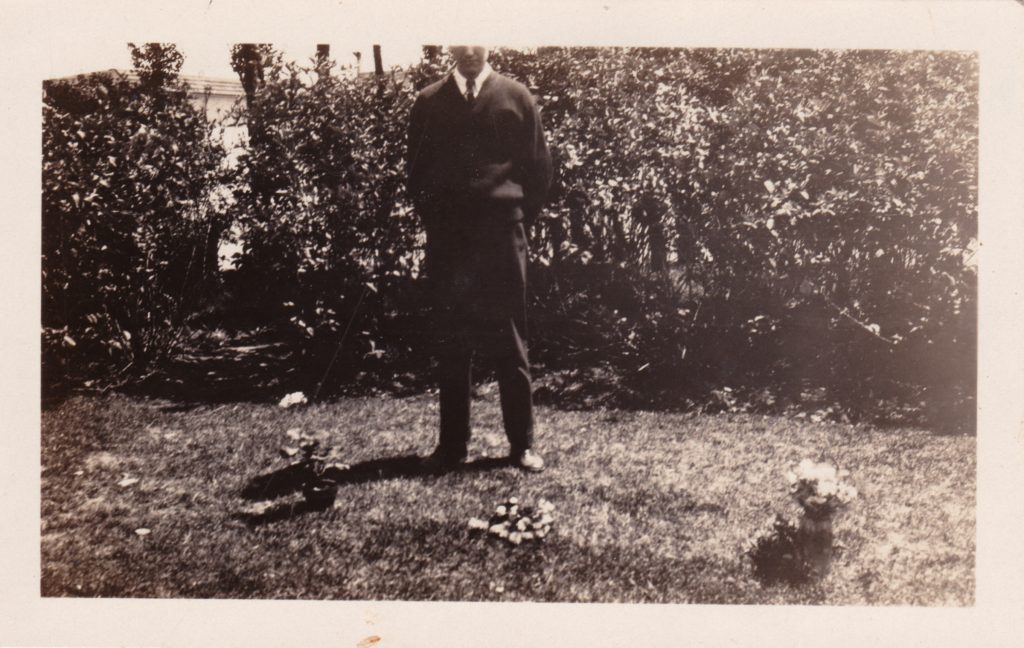 My grandmother does not appear in any of the photographs. She may have preferred not to have her picture taken. She, or her sister Marjorie, may have taken the photographs.
No headstone was placed to mark Wilbur's grave. I contacted the cemetery several years ago and got the plot location and the cost of placing a marker. I've wondered if this is something other family members would want to contribute to in memory of Wilbur and my grandparents.
I am grateful for the assistance my grandparents received from The Salvation Army in their time of need – and for the assistance I received from the helpful museum staff.
This is my contribution to Sepia Saturday. Please visit other participants and see what they have cooked up in response to the prompt photo.
Sepia Saturday provides bloggers with an opportunity to share their history through the medium of photographs. Historical photographs of any age or kind become the launchpad for explorations of family history, local history and social history in fact or fiction, poetry or prose, words or further images. If you want to play along, sign up to the link, try to visit as many of the other participants as possible, and have fun.