When my sister Karla was here taking care of me last month, I was treating my stomach with kid gloves after my stem cell transplant. It reminded me of being pregnant – when the mere thought of some foods could turn my stomach and I craved foods I normally didn't eat that often. I could not eat chicken or any soups made with chicken broth, but I could eat cheeseburgers with abandon.
Comfort foods were appealing to me. When we were growing up, we ate tuna casserole fairly often. It's something I still make on occasion, and so do my sisters. Mom always served tuna casserole with English peas and there was usually some kind of jello with fruit.
Long ago, I asked mom for the recipe for tuna casserole. You can imagine that she kind of laughed, because who would need a recipe? She obliged by giving me instructions while I wrote as quickly as I could.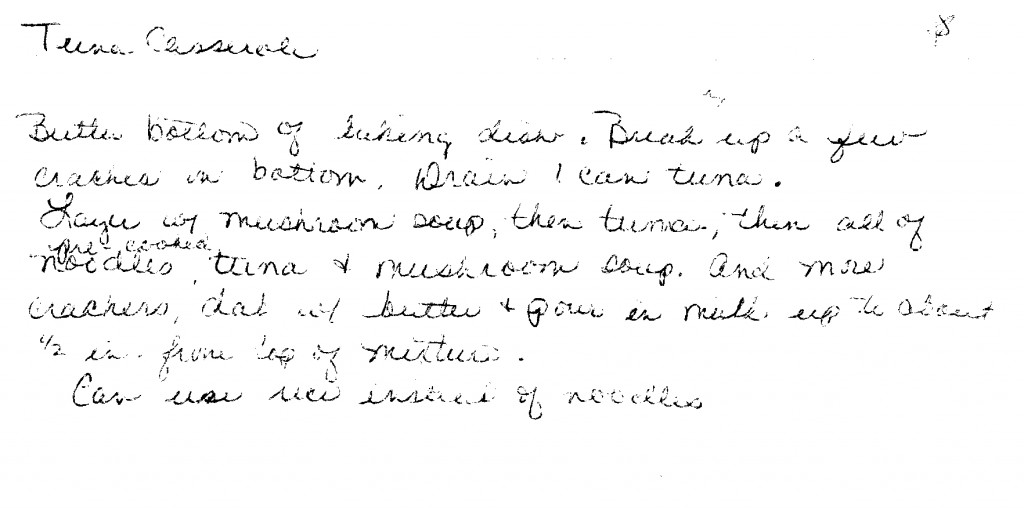 TUNA CASSEROLE
Butter bottom of baking dish. Break up a few crackers on bottom. (We used saltines.) Drain 1 can tuna. Layer with mushroom soup, then tuna, then all of pre-cooked noodles, tuna, and mushroom soup. Add more crackers, dab with butter and pour in milk up to about 1/2 inch from top of mixture. (I know I had to work to get specifics about the milk out of her – more than "add a little milk".)
Can use rice instead of noodles.
Karla made tuna casserole for supper one night and since it must be served with peas, now she just adds the peas to the casserole. As we were eating, Karla asked if I remembered the casserole with mashed potatoes on top. Yes I did – Shepherd's Pie – and since hamburger and mashed potatoes were acceptable to my leery stomach, she made that for us too.
We didn't eat Shepherd's Pie as often growing up, but it was one of my favorites. I've made it a few times as an adult, and I can't help but like it still. My sister Kristie tells me she hated it as a kid. Of course, this is the easy canned everything variety, not quite like the real thing, but who cares if it tastes good to you?
EASY SHEPHERD'S PIE
Brown one pound of ground beef; drain, and season with salt and pepper. Stir together ground beef, 1 can cream of tomato soup, and 1 can cut green beans, drained. Top with mashed potatoes. Bake at 350 degrees until heated through.
Karla also made Jello because the nurse said to add it to my diet to boost my fluid intake. We most remember Mom making lime Jello with added canned pears and orange Jello with orange add-ins: mandarin oranges, shredded carrots, or maybe canned peaches. There was the occasional red Jello with canned mixed fruit – not my favorite. I never did like canned mixed fruit – especially those green grapes.