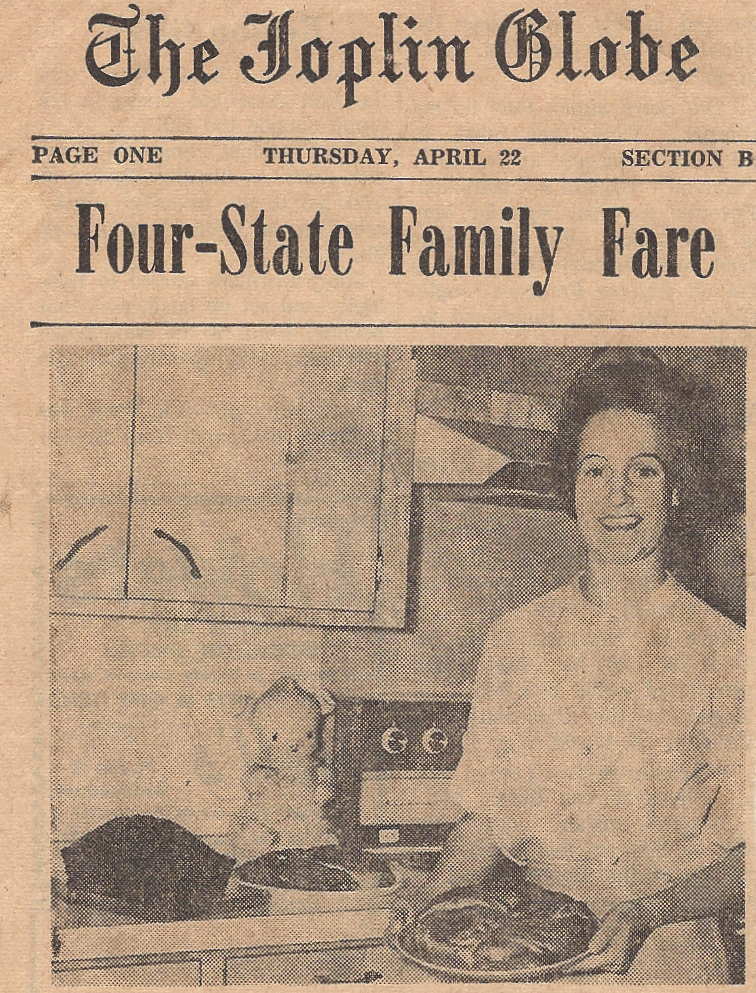 Here's my sweet mama showing off some baked goods in the newspaper. Mmm-mm, she was a goooodd baker!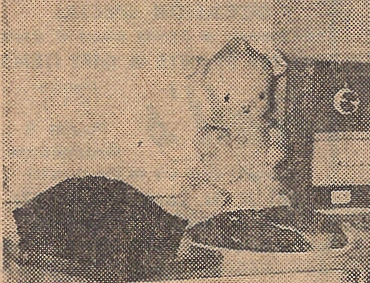 I love that cookie jar! It still sits on the refrigerator in Mom's and Dad's kitchen. It's at least as old as I am – guess that's why I like it so much. Of course, this old newspaper photo doesn't do it justice.
We had recently moved to Joplin when this article appeared in the paper. I don't know how it came to be. Guess I need to ask Dad if he remembers. Being a small city, I suppose it was pretty common to have news about the movers and shakers in the community – like the new assistant manager of the Sears store and his wife – featured in the paper. lol
I'm not going to post the whole article as there is just a little too much personal info that I don't have permission to share, but here's the headline.


Mom shared two recipes – Pumpkin Bread and Maple Butter Twists. I don't know what the third thing is on the counter, but it could be a second Maple Butter Twist with a slice cut out and shared with the newspaper person.
In our ESL class the day before Halloween, we had a discussion about the different ways pumpkin is prepared around the world. When I mentioned that I make pumpkin bread, one of the students asked if I would share the recipe. I'm going to share it on our group Facebook page today in hopes that some students will follow my lead and share some of the dishes they talked about in class – pumpkin curry; a pumpkin dessert made with fruit, cinnamon and milk; honeyed pumpkin seeds …. I hope they will!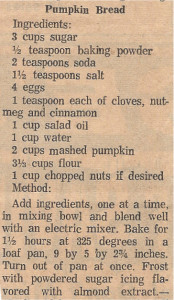 Once Mom found this recipe, she made it every year – mostly in the fall and at Christmas. She liked to frost her pumpkin bread with buttercream icing. At Christmas time, she would add a few sliced candied red and green cherries on top to decorate. Many loaves of decorated pumpkin bread were given as gifts at Christmas.
I make it every year too. It's just so good and must be made. But I usually don't frost it. It's fine just the way it is.
One thing I notice her recipe doesn't say is to grease the pan. I usually line the bottom with waxed paper or parchment paper too, so that it pops right out.
Pumpkin Bread
Ingredients:
3 cups sugar
1/2 teaspoon baking powder
2 teaspoons soda
1 1/2 teaspoons salt
4 eggs
1 teaspoon each of cloves, nutmeg and cinnamon
1 cup salad oil
1 cup water
2 cups mashed pumpkin
3 1/2 cups flour
1 cup chopped nuts, if desired
Method:
Add ingredients, one at a time, in mixing bowl and blend well with an electric mixer. Bake for 1 1/2 hours at 325 degrees in a loaf pan, 9 by 5 by 2 3/4 inches. Turn out of pan at once. Frost with powdered sugar icing flavored with almond extract.
I usually use canned pumpkin – the slight difference in measurement doesn't make a difference. Mom and Dad would often cook and freeze fresh pumpkin to use for pumpkin bread and pumpkin pie.
I'll share the recipe for Maple Butter Twists another day.
What is your favorite pumpkin recipe?
Family – let's hear every story you can think of concerning pumpkin and pumpkin bread!