I've been on two genealogy expeditions recently. I didn't have time to finish writing about my trip to Iowa before I went on a jaunt to north Texas with my husband and mother-in-law. So much to do!  Pictures to download and identify and organize, records to search, emails to send, notes to write, and a blog to boot. I'm just going to stick with my trip to Iowa for now and finish documenting our trip to Bethel Cemetery.
Bethel Cemetery is located in Lick Creek Township near the Van Buren/Jefferson County line.
Martha Jane Yost Smith Norcross (mother of Andrew Washington Smith) was the daughter of John Yost and Barbara Silar. The Yosts are located on Rows 7 and 8 in Bethel Cemetery.
JOHN YOST
DIED
Feb. 16, 1857
AGED
53 Yr's, 6 M
& 25 D's
Between the sun, the concrete-like dried moss, the script, and age, I couldn't read the bottom portion of the marker. I hoped it would be easier to read on the computer…. not so much. I think it is a verse from a poem. If someone would like to decipher that for me, I would really appreciate it and would thank you profusely. I might bake you some cookies.
John Yost and his wife, Barbara Silar, share a marker. Again – a verse near the bottom that I can't read.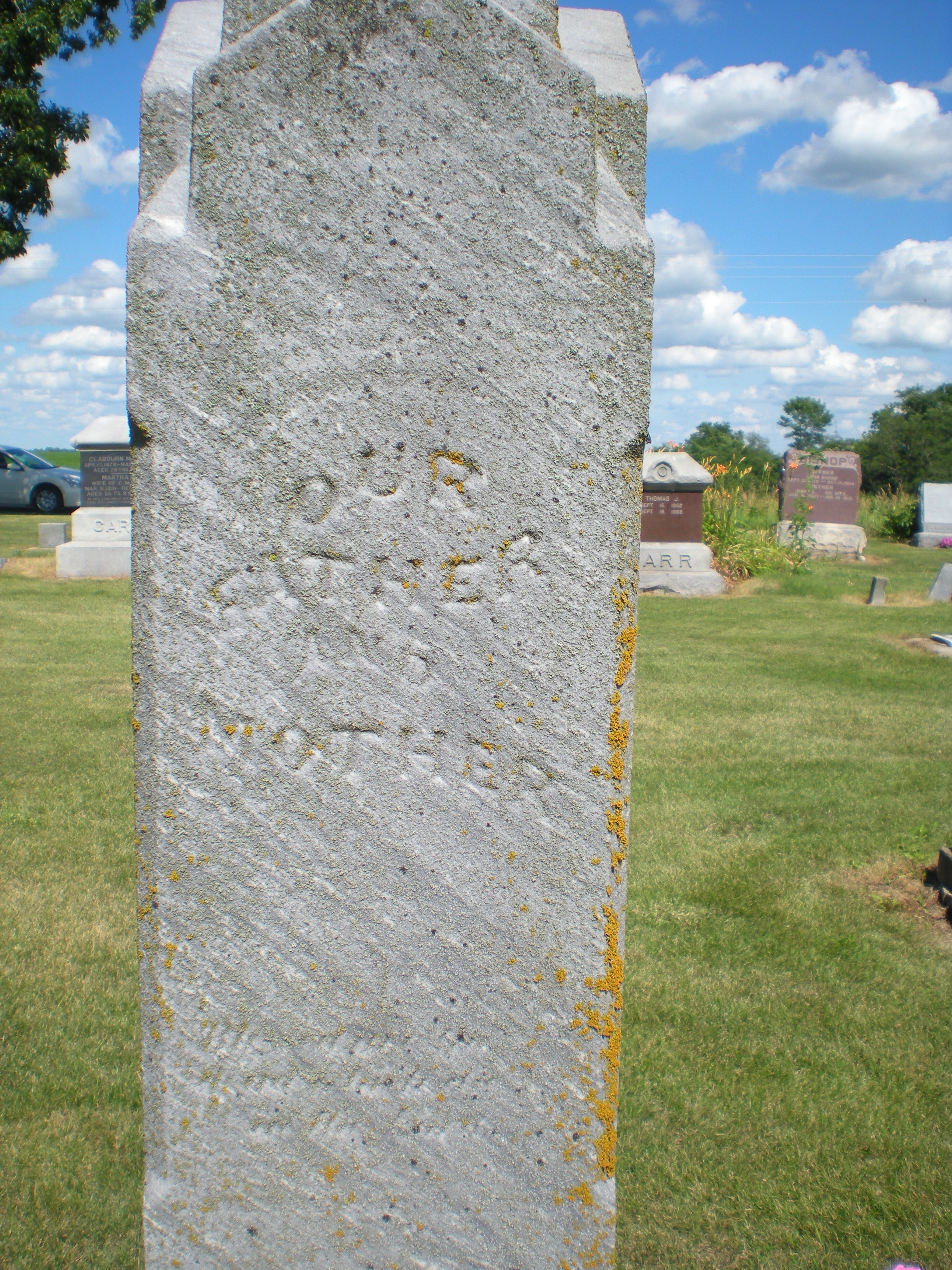 Unfortunately, her side is weathered and extremely difficult to read.
BARBARA
Wife of
JOHN YOST
DIED
?  I can't read the rest, but her obituary records her date of death as March 17, 1889, at the age of 88 years, 8 months and 12 days.
I didn't get a picture of Dad(Jerry) with his great great grandparents. I think this was about the time I saw him down on his hands and knees trying to find Mary Ann Rutledge. 🙂
The children of John Yost and Barbara Silar are Martha Jane, Peter, Andrew, and Catherine.
Andrew is buried with two wives, Elizabeth Ann Robertson and Rebecca S. Dole, and a son, Charles O. Yost.
And here is where I messed up.
I saw several markers with the name Widger near the Yosts, but the name didn't ring a bell. Turns out that was Catherine Yost's married name and all those Widgers were Catherine, her husband and children. I didn't take any pictures. Oops.
I saw several markers with the names Hall and Johnson – ridiculously common names, but both names in the Smith ancestry. I took pictures of them, but will wait to post them later since I haven't had time to figure out if they are my Halls and Johnsons.
You'd think with a bunch of ancestors named Smith, Hall and Johnson, I'd have remembered the name Widger!