Oops! We got into the cobbler before I decided to take a picture and share the recipe. Christina and I have no willpower.
I bought a half box of amazingly delicious Fredericksburg peaches from an Optimist group fundraising for scholarships the weekend before the 4th. They were so good! I ate at least one a day until we went out of town. (Also made a peach pie for July 4th – yum!) I stuck the rest in the fridge, hoping they would still be edible when we returned. They were not as pretty for eating in the raw as when we left, but still tasty and great for cobbler.
I got this recipe from the Austin American Statesman years ago. It was a "children's" recipe – so it has lots of instruction included. Not an "old" family recipe, but one of mine.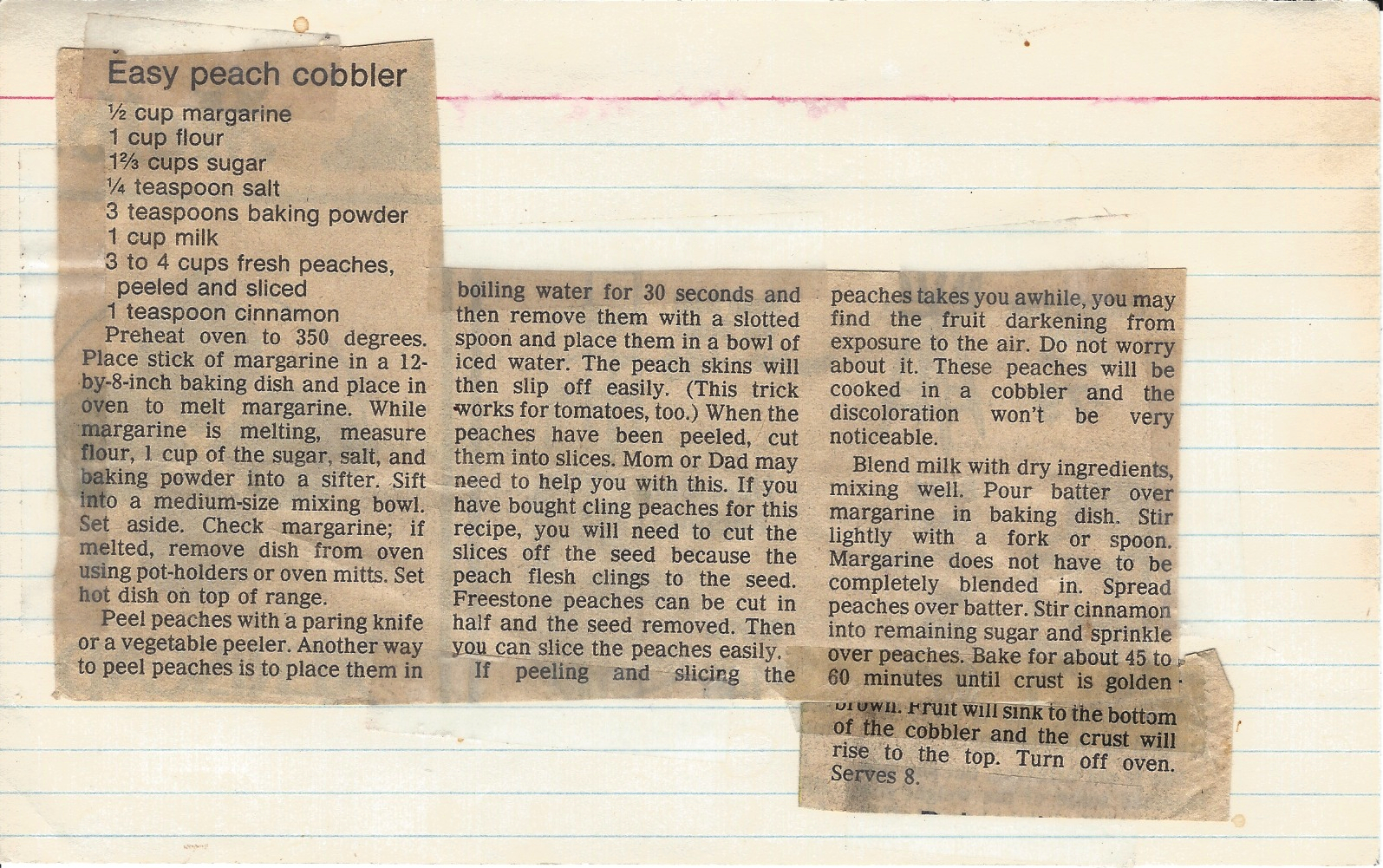 Here are the bare bones:
Easy Peach Cobber
1/2 cup margarine (I don't use the stuff any more – I use real butter)
1 cup flour
1 2/3 cups sugar (separated)
1/4 teaspoon salt
3 teaspoons baking powder
1 cup milk
3-4 cups fresh peaches, peeled and sliced
1 teaspoon cinnamon
Preheat oven to 350 degrees. Place stick of butter in a 12-by-8-inch baking dish and place in the oven to melt. While the butter is melting, measure flour, 1 cup sugar, salt, and baking powder into a sifter. Sift into a medium-size mixing bowl.  Set aside. Check butter; if melted, remove from oven.
Blend milk with dry ingredients, mixing well. Pour batter over melted butter in baking dish. Stir lightly with a fork or spoon – it does not have to be completely blended in. Spread peach slices over batter. Stir cinnamon into remaining sugar (I usually use 1/3 c. instead of 2/3 c. of sugar – just a tiny bit healthier!). Sprinkle over peaches.
Bake for 45-60 minutes until crust is golden brown.
I think this makes a delicious cobbler. Let me know what you think.