Sepia Saturday provides bloggers with an opportunity to share their history through the medium of photographs. Historical photographs of any age or kind become the launchpad for explorations of family history, local history and social history in fact or fiction, poetry or prose, words or further images. If you want to play along, sign up to the link, try to visit as many of the other participants as possible, and have fun.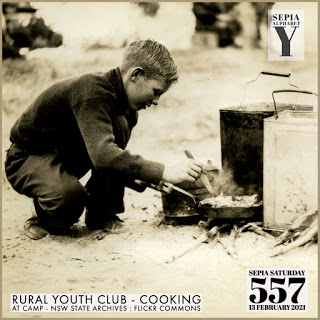 The "Y" prompt was the nudge I needed to research a line of my family that I know almost nothing about – the Yost line. I have headstone photos of several of the Yost family from a trip I took to Iowa in 2012.
I always hope for success in answering all of my questions, but it is never that easy!
I found some photos on ancestry.com that are identified as my 3rd great-grandparents. Below: John Yost
John Yost was born 21 July 1803 in what is now West Virginia. I have as his parents Jacob Yost and Sarah. I don't know where I got those names – an unmistakable sign of an amateur genealogist! So I have no real clues to parentage.
On 22 April 1829, John Yost and Henry Siler filed a marriage bond in Berkeley County, VA in the amount of $150 for a marriage license for John Yost and Barbara Siler. I do not know the relationship of Henry to Barbara. Brother? Uncle?
I also found a photo on ancestry.com that is identified as my 3rd great-grandmother, and wife of John Yost, Barbara Siler.
I have been unsuccessful in locating early census records for John and Barbara Yost, but later census records confirm the birth of my 2nd great-grandmother, Martha Jane Yost in Virginia in March of 1830.
By April of 1832, the family was in Greene County, Ohio, where a son, Peter, was born. A third child, Andrew, was born in October 1833, also in Greene County, followed by a fourth child, Catherine, in April of 1836. I searched through the 1840 census for Greene County, page by page, but never found the family. Perhaps they were on the move again, as they eventually settled in Jefferson County, Iowa.
I have a little more that I could share about the Yost family, but I keep searching and researching, looking for more information and additional context. Now that it is mid-afternoon on Sunday, and having intended to post something on Saturday, I realize it may be best to just stop for now.
Perhaps I should have gone with my other thought for the "Y" prompt – yarn. I could have finished that in a week's time.
Please visit other Sepia Saturday participants and see what yarns they have to tell. You can find them here: Sepia Saturday