David Letterman used to do a sketch called "Is This Anything?" The curtain would rise on an individual or group performing an unusual stunt, then Dave and Paul Shaffer would discuss whether the act was "something" or "nothing." I can imagine my children playing a version of this sketch as they go through the contents of our home sometime in the future. To help them with this task, I will randomly select something in our home and answer these questions: What is this and is it a family thing? Then they can decide if it is "something" or "nothing."
I'll begin with these bluebirds that nest on a baker's rack in our kitchen/family area where I can see them every day. They make me smile.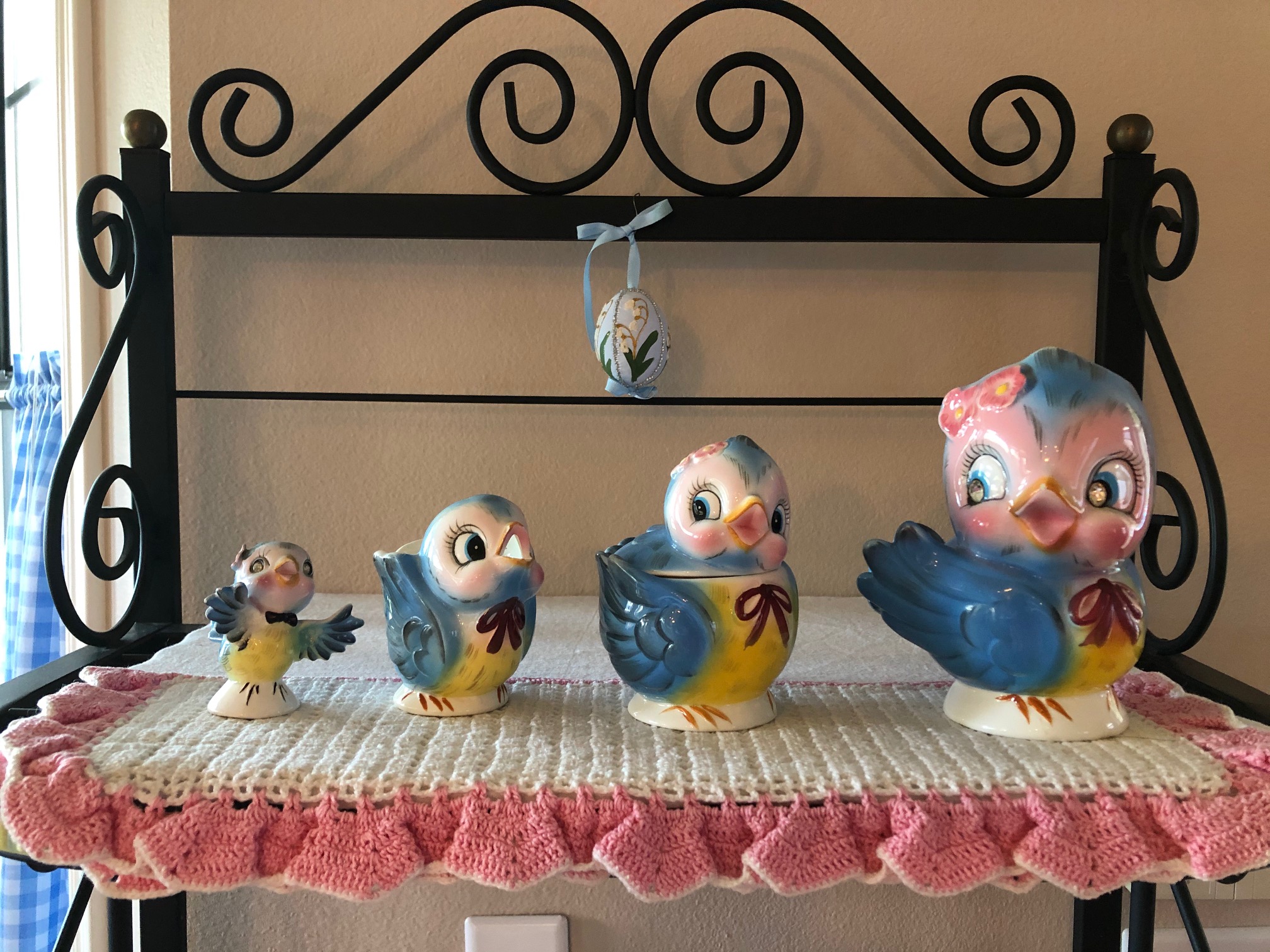 I put them away when I decorate for Christmas, but I am always happy for their return in the spring. Sometimes they are configured differently – whatever fits my mood.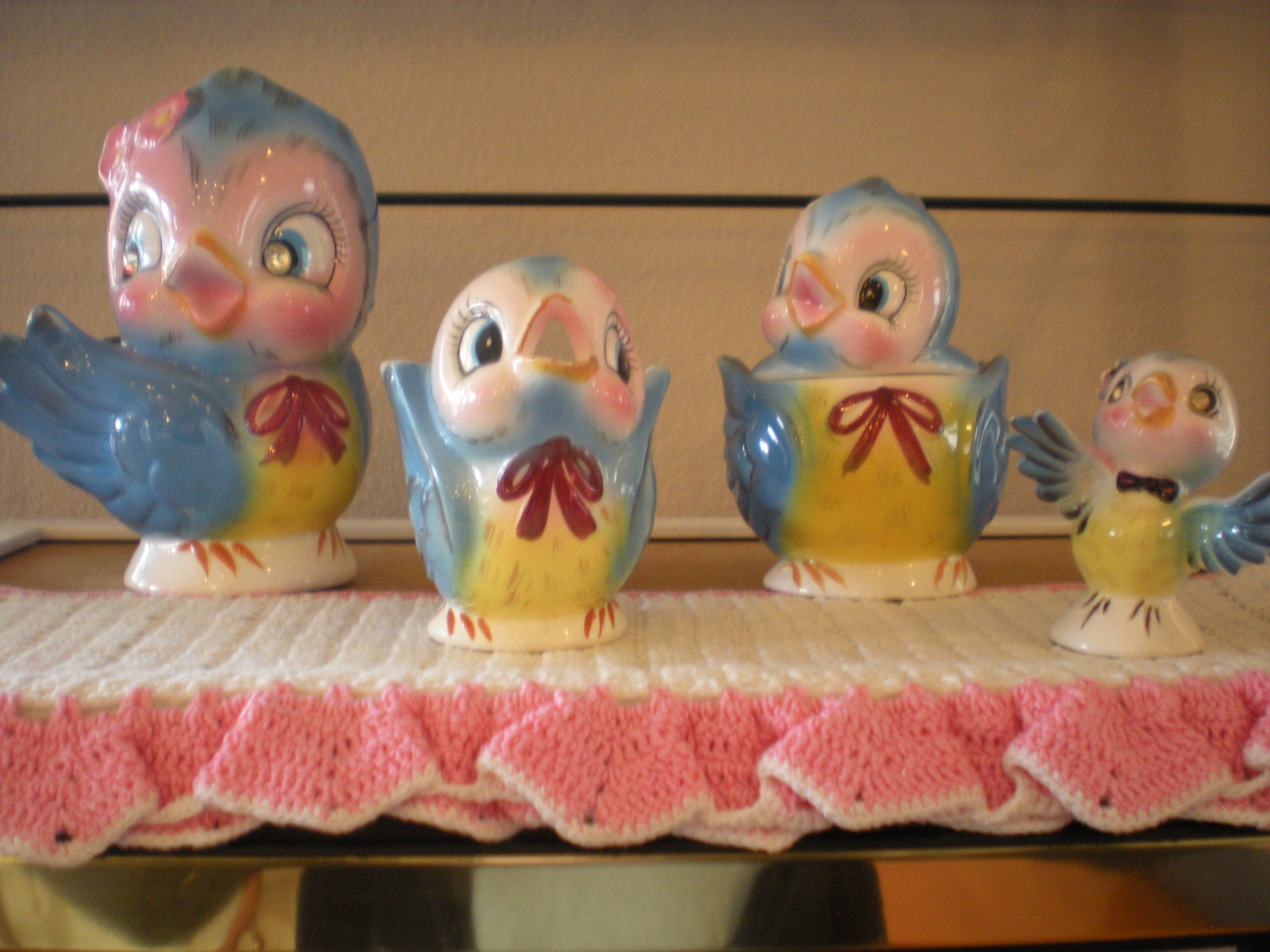 Of course, they are also the header photo for this blog.
The bluebird set belonged to my Grandmother Abbie, although I have no memory of them in her home. When I visited my father a few years after her death, I learned that what remained of her belongings was stored in a warehouse. I asked to go and see what was there. I was pretty disappointed, to say the least. The warehouse was dark and dank. There were not many of her things left and what was there were pretty much thrown in piles and boxes. There was water and insect damage. I rescued what I could.
I packed what would fit into our suitcases for the flight home. Unfortunately one of the little salt and pepper shakers was severely injured. In retrospect, I should have paid for proper shipping. Also in retrospect, I should have tried to replace the little shaker back then, as the prices have gone up considerably.
This set includes a planter (Mama with rhinestone eyes), creamer, lidded sugar dish, and salt and pepper shakers (also with rhinestone eyes).
They were manufactured by The Lefton Company.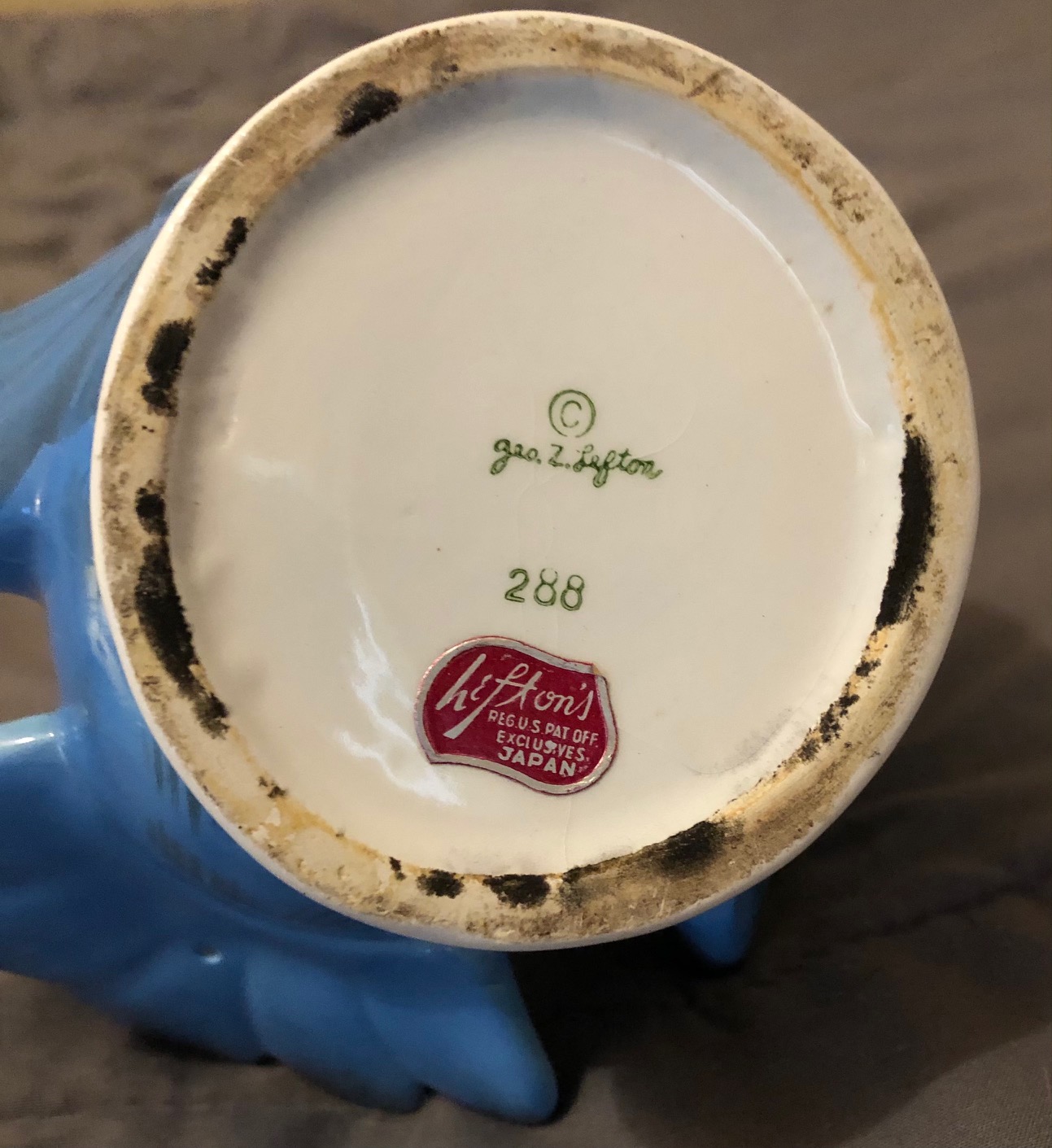 Information from Collector's Weekly helps to date them:
From 1945 through 1953, these pieces were stamped with the words "Made in Occupied Japan." Figures from 1946 to 1953 may also bear a red sticker with either silver or gold trim on their bases, which reads "Lefton's Exclusives Japan." Objects made after 1953 added the words "Reg. U.S. Pat. Off," while those made after 1960 swap that phrase for the simpler "Trade Mark." Unfortunately, during the 1960s, '70s, '80s, the use of these stickers (and others) overlapped, so they are not a perfectly reliable way to date a piece of Lefton.
So, sometime 1953-1960 seems right.
I wonder if someone gave them to Grandma as a gift, or if she couldn't help herself and gave herself a gift. If anyone can answer that question, please do!
Is it a family thing? Yes.