I learned that my Uncle entered hospice a few days ago. He's the son of Grandmother Abbie (Webber Smith Brender).
I always hear the "flavor" of my grandmother's voice in his voice. His sense of humor and joyful laugh are much like hers as well. He always loves a good joke – and bad jokes too! You can see it in that smile, can't you?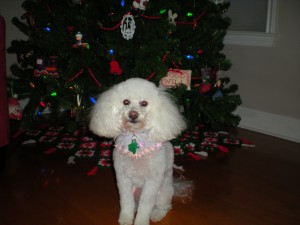 The picture above was taken at my uncle's house in July 1999 during a family trip to Iowa. He had a small workshop and had taken up making trivets and Christmas ornaments and other "doodads" with his saw and pieces of scrap wood and siding. The white ornaments he gave us really stand out on our Christmas tree. There is one in this picture right above Lola's head.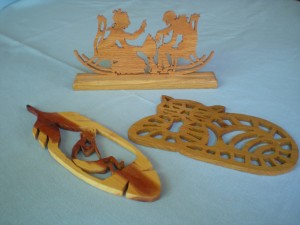 Here are a few of the trivets and decorative items he gave us during our visit. His hobby also reminded me of his mother. Grandma Abbie enjoyed crafting and continued making things for others even as her eyesight was failing.
Before I finished writing this short post today, I learned that another family member of this generation had a setback in the hospital. And so I am reminded of our most precious family treasures and the stories they have to share.