I've been thinking a lot about handwriting recently because of the time I am spending with the Bryan Family Bible. In my most recent post about it, I made a case for identifying one of the writers as my 2nd great grandfather, George Washington Bryan.
Also, I've started "collecting" ancestor signatures. I got the idea from Jana Last at Jana's Genealogy and Family History Blog, where she added a page for ancestor signatures and said she got the idea from another family history blogger. I love how we can steal share great ideas!
I haven't added my ancestor signatures page to Abbie and Eveline yet because I only have a couple of signatures ready. I took a look at it this morning and realized I should add dates to those signatures before I publish them. So … I started looking at papers … and you know … got side-tracked … and so here I am deciding that I'll spend a little time looking at how my grandmother's handwriting changed over the years.
Because our handwriting does not stay the same over time.
In fact, sometimes mine changes in the same paragraph. I have a couple of different ways that I form some letters and, who knows why, but I'll write the letter one way in one sentence and a different way in the next sentence. Sometimes my handwriting is really neat. Sometimes it's sloppy. Sometimes the slant changes too – perhaps it has something to do with my mood?
It does make the identification of handwriting tricky.
I'm pretty good at identifying my grandmother Eveline's handwriting. I was exposed to her writing for many years. But there are windows of time that her handwriting doesn't look as I remember it.
Here are samples I might or might not recognize.



I don't have a date on the above, but they are from a school paper – a book review of "The Mill on the Floss". I'm thinking maybe she was about 17 years old. It is the earliest signature I can find among her papers. I might recognize the larger sample as hers, but maybe not the signature by itself.
Grandma signed a teacher contract in 1920. The capital E here isn't anything like the one above! Maybe she was trying to demonstrate the cursive style that a teacher was expected to use at that time – wanting her bosses to know she could write like a teacher should.


By 1923, Grandma was married so, of course, her signature changed a bit then.


Here is a sample from 1934.


I don't really have any writing samples that I can date as being in the 1940s-1950s, so I'll skip to this sample from 1975 – a letter she wrote to my parents and sisters (I was already out of the house). It looks very familiar to me.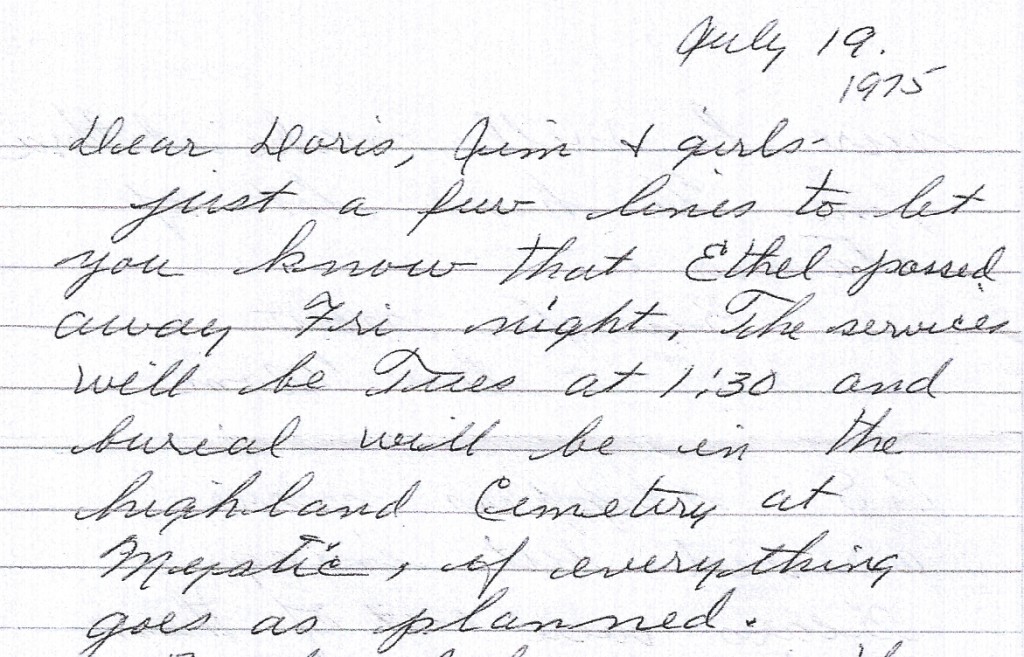 I am lucky to have quite a few letters that Grandma wrote to me. She would have written more if I had been better about writing to her! This sample is from December of 1983 and Grandma was a just couple of months away from her 84th birthday. When writing to me, she didn't sign her name, of course….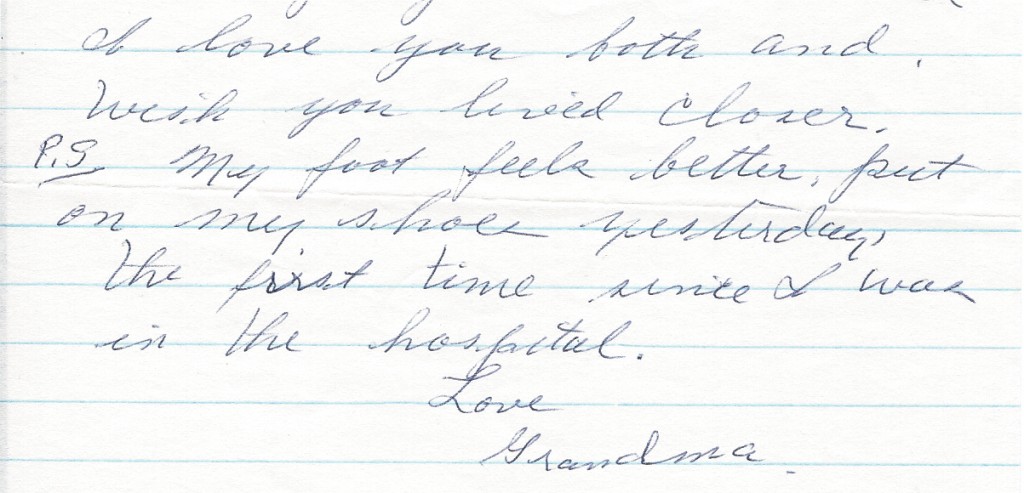 … except when she began to age and those little mini-strokes began to chip away at her memory. Then she would sometimes sign her letters "Eveline" instead of "Grandma." And she sometimes complained that her eyesight was dim.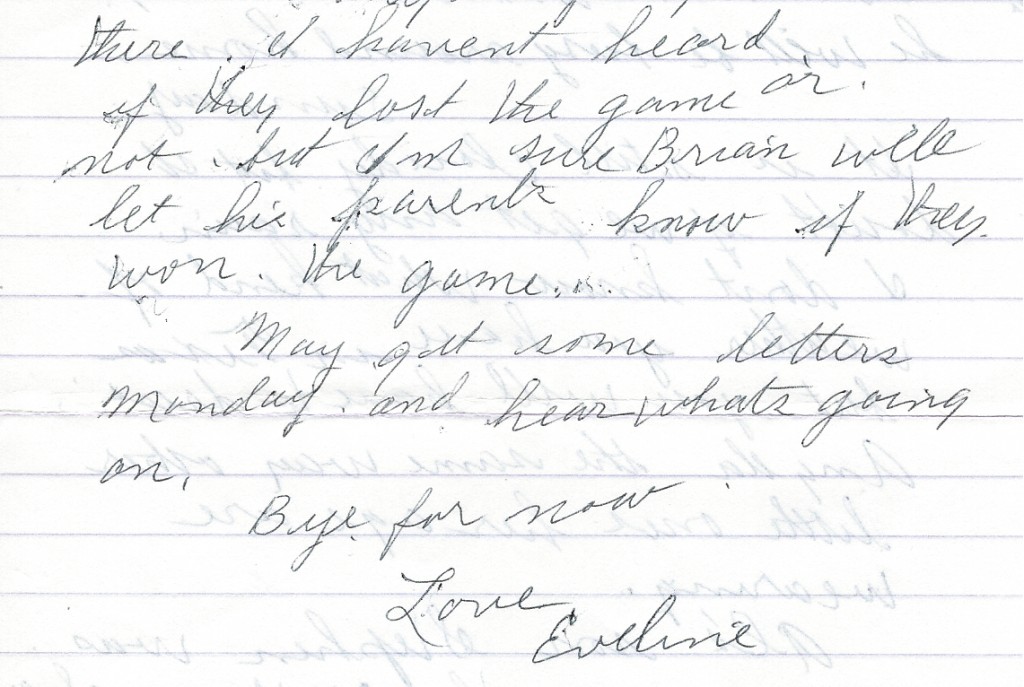 As age and dementia marched on sometimes she wasn't sure who I was, but she always answered my letters. Her handwriting became less like what it had been. This letter from March of 1987 is the last letter I have from her.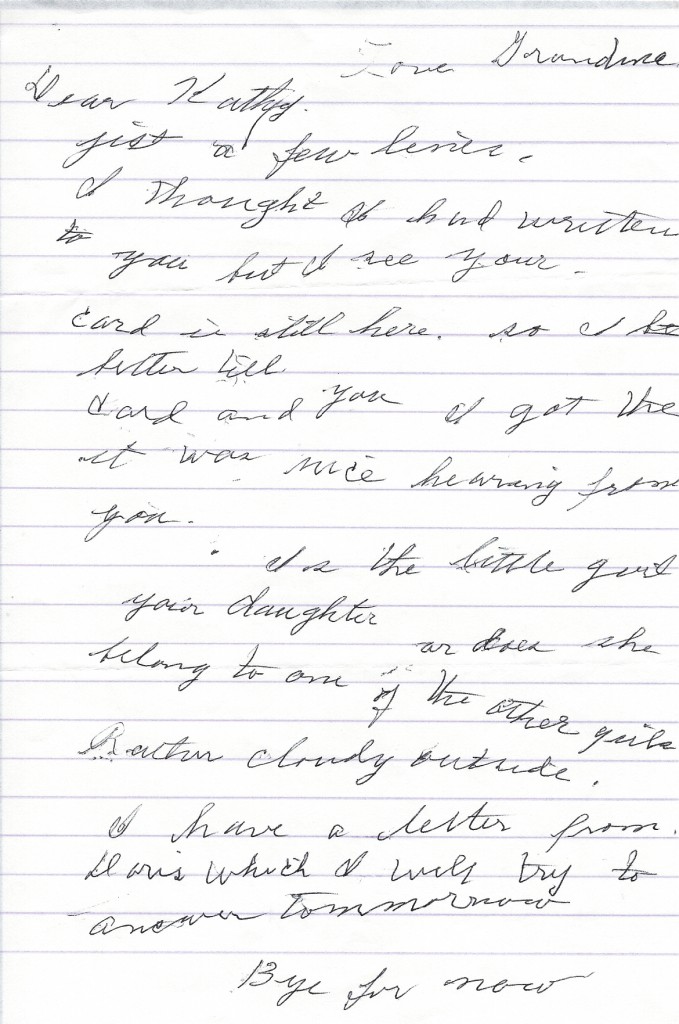 If all I had to go by were samples of handwriting from Grandma at age 17-20 and age 87, I don't know that I would recognize them as being written by the same person.
But here they are. And I don't have to guess. I know who wrote them.
I didn't intend to participate in Sepia Saturday this week. But, unlike most weeks, the prompt itself is a plaque rather than an old photograph. So I'll stretch the prompt idea to include the words my grandmother put on paper – memorializing a bit of her life.
Please visit other Sepia Saturday participants and see what they have prepared for today's prompt.