Sepia Saturday provides bloggers with an opportunity to share their history through the medium of photographs. Historical photographs of any age or kind become the launchpad for explorations of family history, local history and social history in fact or fiction, poetry or prose, words or further images. If you want to play along, sign up to the link, try to visit as many of the other participants as possible, and have fun.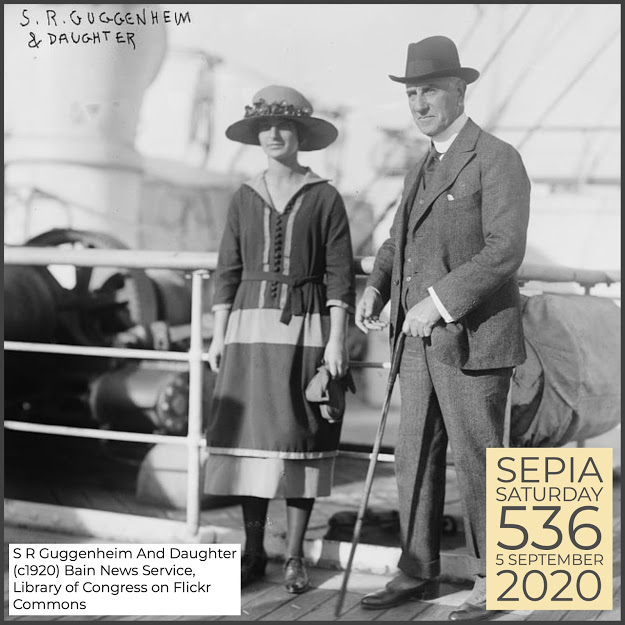 I really can't think of a connection to the prompt photo and my post today other than several suits and ties. I've been wanting to research and write about the epidemics, pandemics, and other public health crises that have impacted my families, so I'm starting those posts today. I do have old photos, so there's that.
First up, the influenza epidemic of 1918-1919. My family research hasn't been particularly fruitful, but I'll go with what I have. And I'll add that I've fallen into the rabbit hole of old newspapers to find information and context. If you don't want to read all of them, feel free to scroll on by!
My Strange-Webber family has one story that has been passed down – about Woodye (Woodrow Wilson) Webber.
This picture of the M. D. Webber and Dorinda Strange Webber family was taken in 1919. Woodye is the youngest child, seen here in her mother's arms. My grandmother was Abbie, the oldest girl in the family.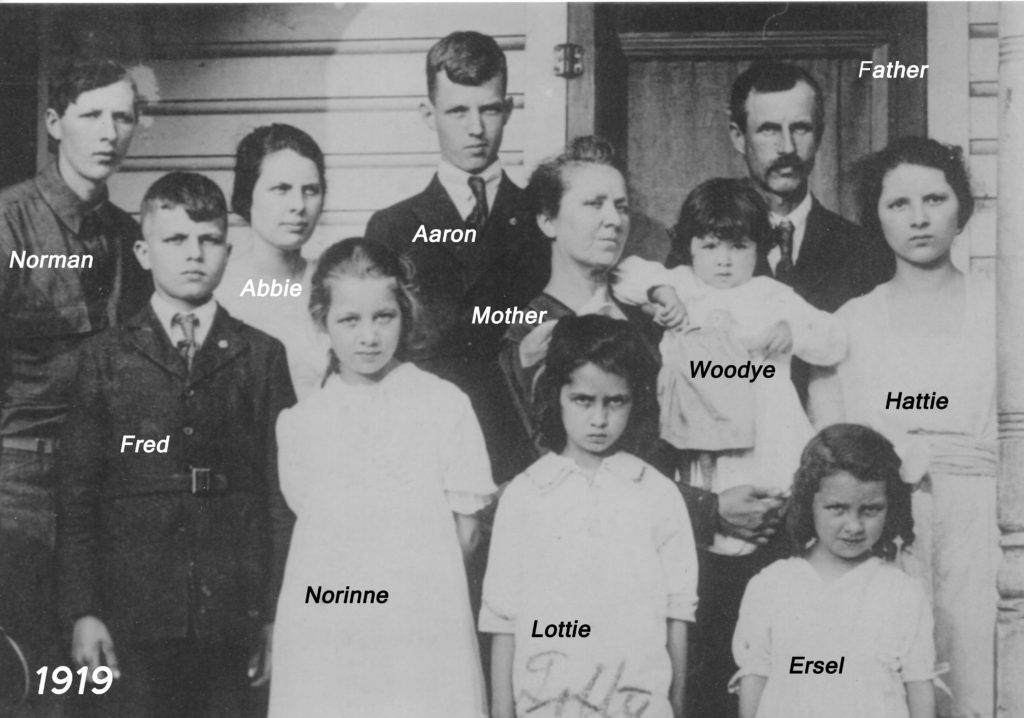 I don't know the occasion that prompted this photo. The girls may all be be dressed in white and most of the boys are in suits and ties. Church? Easter? The short sleeves the girls are wearing indicate a warm time of year, so maybe this was taken in late spring or summer. At the time this photo was taken, the family lived in Fairfield, Iowa. Woodye was born May 2, 1917, in Fairfield.
Woodye's children shared what they heard and remember about their mother's bout with the flu.
Wilda – The story of Mother and the epidemic as I recall hearing it is that mother was very sick for quite some time (several weeks, I think), and that Aaron went into the bedroom periodically to try to entertain her. One day he came out of the bedroom with tears in his eyes. Zam asked, "What's the matter, Aaron?" He replied, "The baby smiled." Her smile had been met by tears of joy, and it marked her turn around. She had started talking and was becoming more mobile, but had to relearn everything after her recuperation.
Aaron, the second oldest boy in the family was the next in age after my grandmother. Zam is the name Woodye's children called their grandmother, Woodye's mother.
A newspaper clipping dated 17 Dec 1918 confirms the approximate time of Woodye's illness.
The curious thing about this little notice in the newspaper is the family member count – eight of nine family members. If you can count, you can see that there are eleven members in this family – two parents and their nine offspring. So where did those numbers come from?
My best guess is that the oldest son, Norman, was not counted. He served with the Iowa National Guard beginning October 7, 1918.  His military service never took him out of Fairfield. I don't know if he stayed at the armory or post for the duration of his service, but maybe he did and was not counted. It looks like Norman is wearing his uniform in the family picture above. Eleven minus one.
The next obvious possibility is that my grandmother had moved out of the house. The 1920 Census shows her living in the family home, so either Abbie was staying somewhere else at the time of the newspaper story or the reporter just didn't get the numbers straight.
Whatever the case, there were a lot of sick people in that house. All at the same time. Since only the story of Woodye has been passed down, perhaps she was the most ill and, being the baby of the family (not yet two years old), her illness was most significant to family lore. We are left wondering if everyone eventually became ill, how they managed with so many sick at once, and how influenza affected others in the family.
The Fairfield newspaper began to report on local cases of the flu in October, along with information about avoiding infection and patient quarantine.


The following day, public meetings were banned due to twelve cases of influenza, plus diphtheria, scarlet fever, and a possible case of infantile paralysis. This order included schools, theaters, churches and other public buildings, but the theater owner had already ordered films and apparently had permission to show them.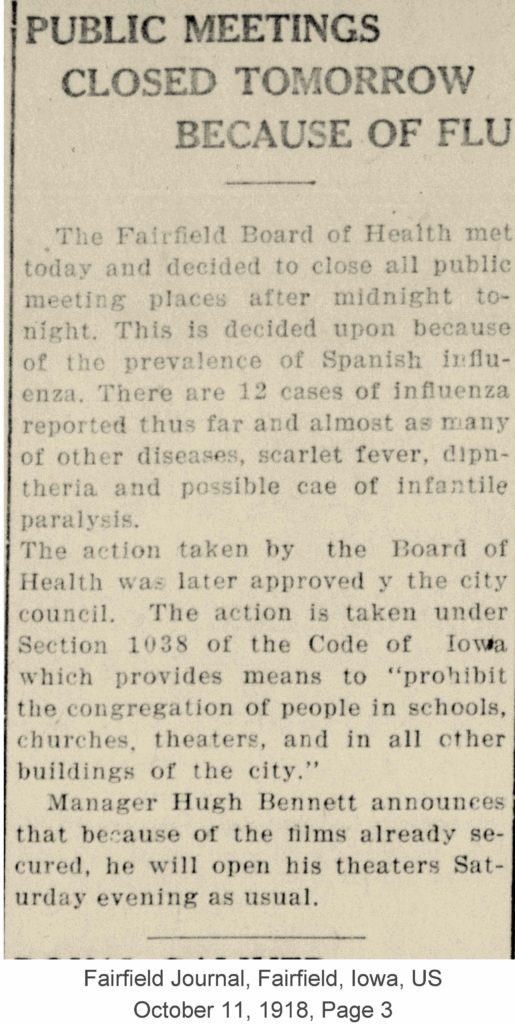 The ban on gatherings was reported to be working and hopes were high that the ban would be lifted. Unfortunately, the epidemic was not as well controlled in other parts of the state and local officials could not lift the prohibitions. (Click to enlarge.)
Halloween was canceled for the Webber kids, as well as all the kids in town.


At some point schools, and presumably churches and other meeting places reopened, but I missed the notices of that. A clipping from November 15th reported that two teachers had contracted the virus and said that the rumor that schools would close was unfounded. The Red Cross needed volunteers to make gauze masks. And Parsons College, in the city, reported thirty-three cases and was under quarantine in November.
Ten days before the notice about the Webber family having influenza, the paper had several notices pertaining to the epidemic. Gatherings of more than twelve people were banned, which resulted in the closing of many businesses as well as churches and schools.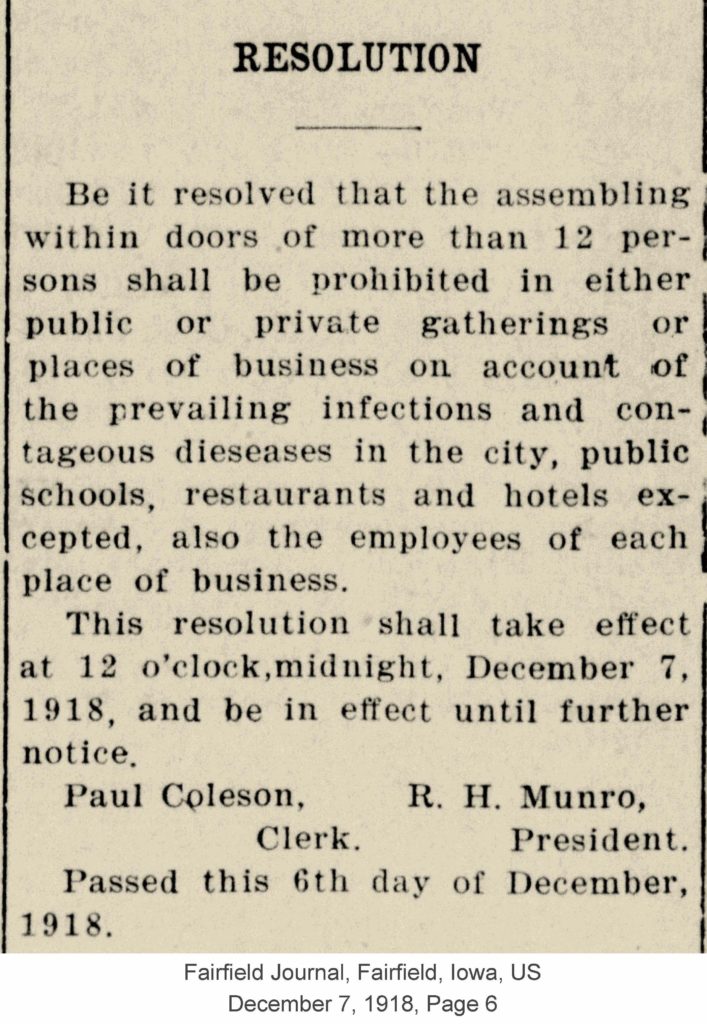 In addition to the influenza epidemic, there was a war going on with calls to service, mask-making, and food rationing, among other things. At the end of the clipping below about church services is a note about sugar – and how the government will trust every one to be on their honor not to use sugar extravagantly. Also – don't eat a fourth meal.


Schools were closed again beginning December 11 and to continue through December 30. In addition, children under the age of eighteen were not to gather in the streets or in the homes of friends.


Failure to comply with quarantine was an indictable offense.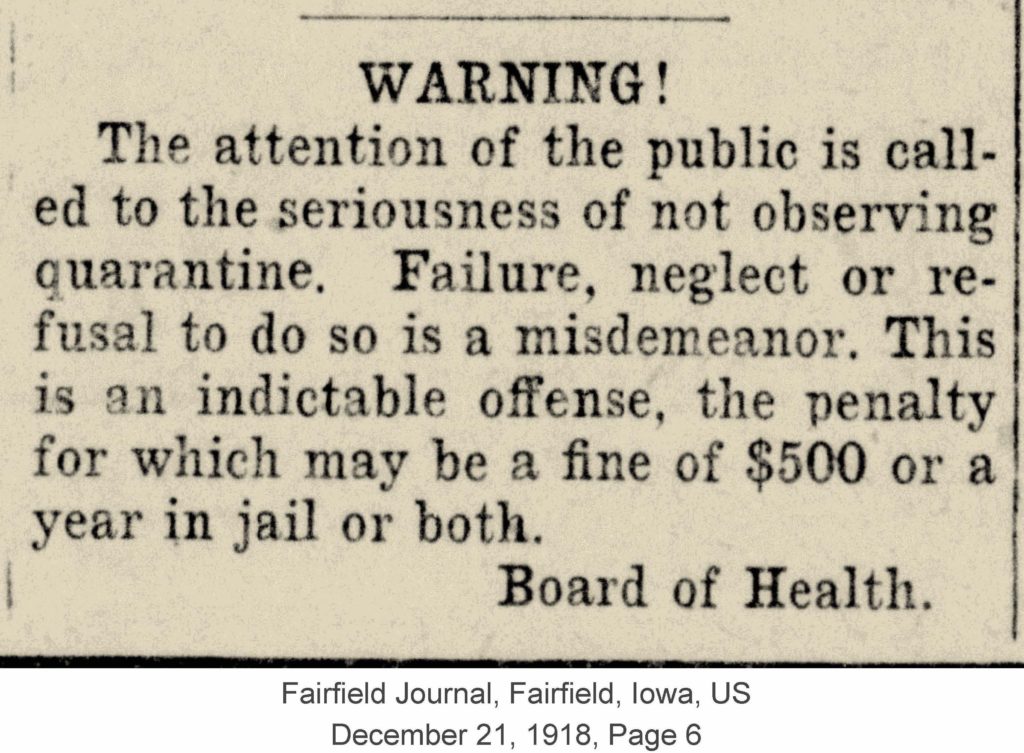 This all sounds familiar, doesn't it? Closings. Openings. Closings. Re-openings. Quarantine. Masks. Outbreaks on college campuses. Follow the rules!
A local newspaper published this piece in the face of difficult times.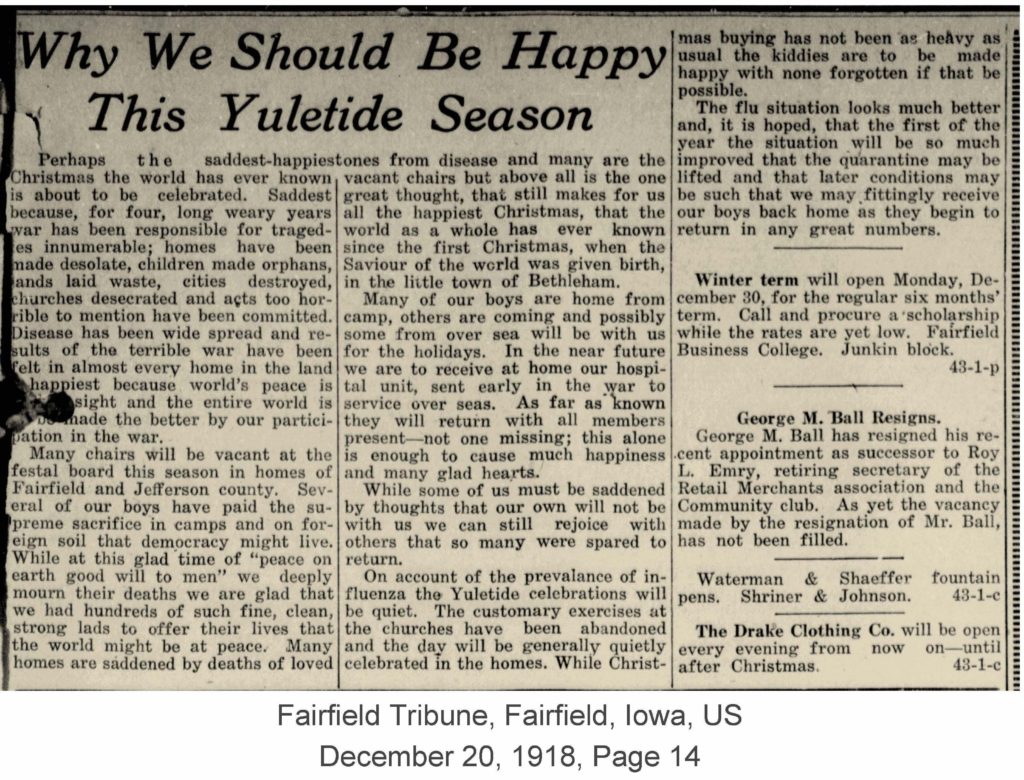 I came up with a few ideas about what may have prompted this family photo.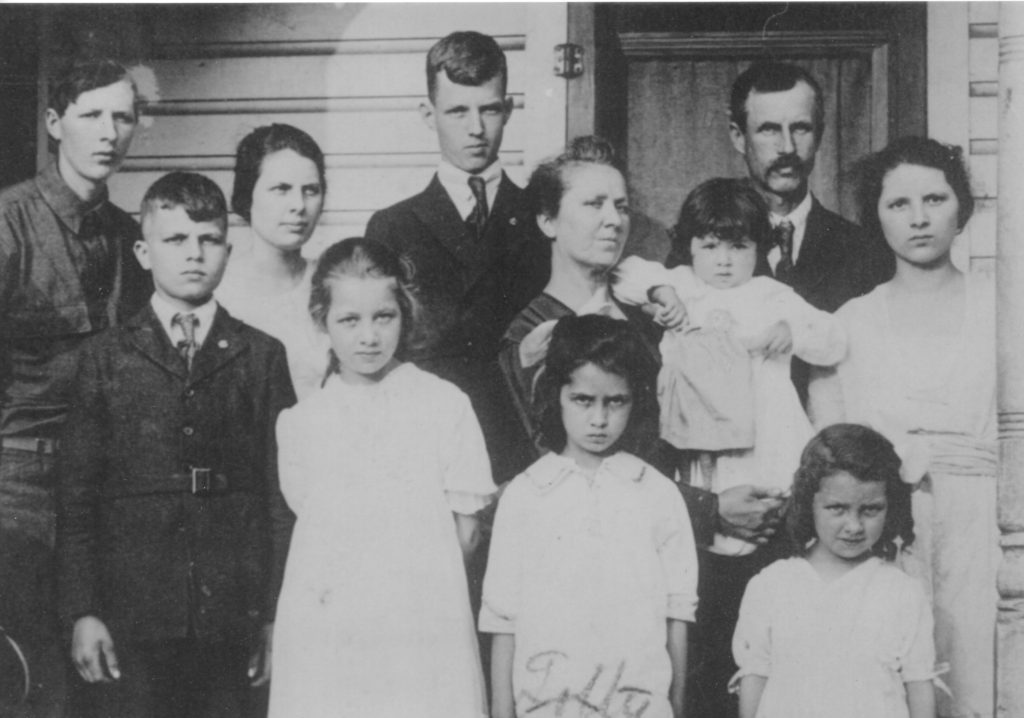 * Easter, April 20, 1919 – as suggested earlier
* A celebration of Woodye's recovery
* Woodye's 2nd birthday on May 2, 1919. If you look closely, you can see that Woodye is holding a doll in the photo and seems to be showing it to the camera. A birthday gift?
* Winning 1st prize at church on Family Night for having the largest family, March 1919


I wonder what happened to that Bible?
The story of Woodye and the flu doesn't end with her recovery as a toddler.
Wilda – Part of the irony of Mother's life is the role the flu played. When flu shots were first available to the public in the 1940s, Mother had one – and got very sick again. And then in her later life, she had a very serious bout with the flu, after which she was pretty-much wheelchair-bound for her remaining lifetime. It seems as though the Spanish flu early in her life and the seasonal flu late in her life are almost bookends to her lifestory – though, of course, not the most important elements of it.
Dorinda – Mother spent her life being afraid of flu shots, because she had a horrible bout with it after her first flu shot, so she didn't trust them.  When she was in Healthwin nursing home they wanted to give her a flu shot each year and she always hesitated.  I reminded her that her first shot was a live virus and that they were now giving shots that were not live viruses.  Makes a big difference.
Becky – First, when she was still in Iowa City (before moving to South Bend) I remember her saying she was getting two half doses of the flu because she felt a full dose caused her to get sick. 
Alice – I remember the 2 half doses for several years before moving to South Bend. What I remember about mom going into the nursing home is she had had a real bad case of the flu and was in the hospital and could no longer walk and that is when she went into Helthwin.
Needless to say, our family is grateful for the life of Woodye Webber. And please, don't take this as an anti-vaccine story! Get vaccinated! And let's all hope for a safe and effective vaccination for COVID-19.
I'll end with a cute photo of Woodye on her first date with future husband Orville Kessler.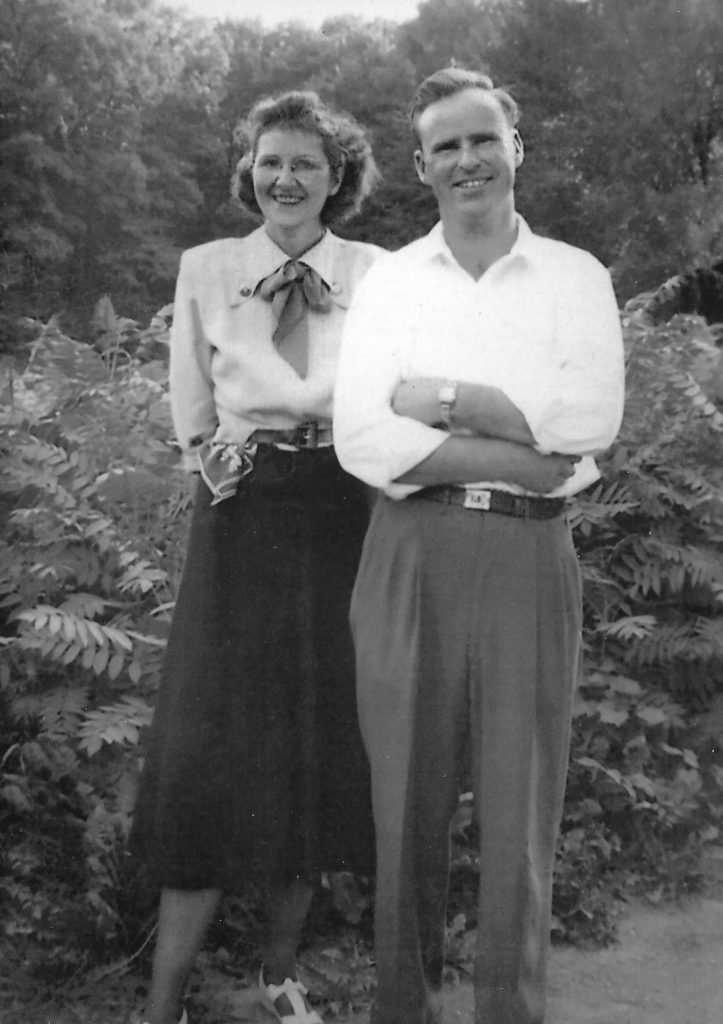 Oh! There it is! A man and a woman standing together. My link to the prompt photo.
To see how others have interpreted the theme this week, visit Sepia Saturday.