I found this Emergency Signaling Mirror among some of my Hoskins grandparents' belongings. This is the ESM/2. The other side is the mirror.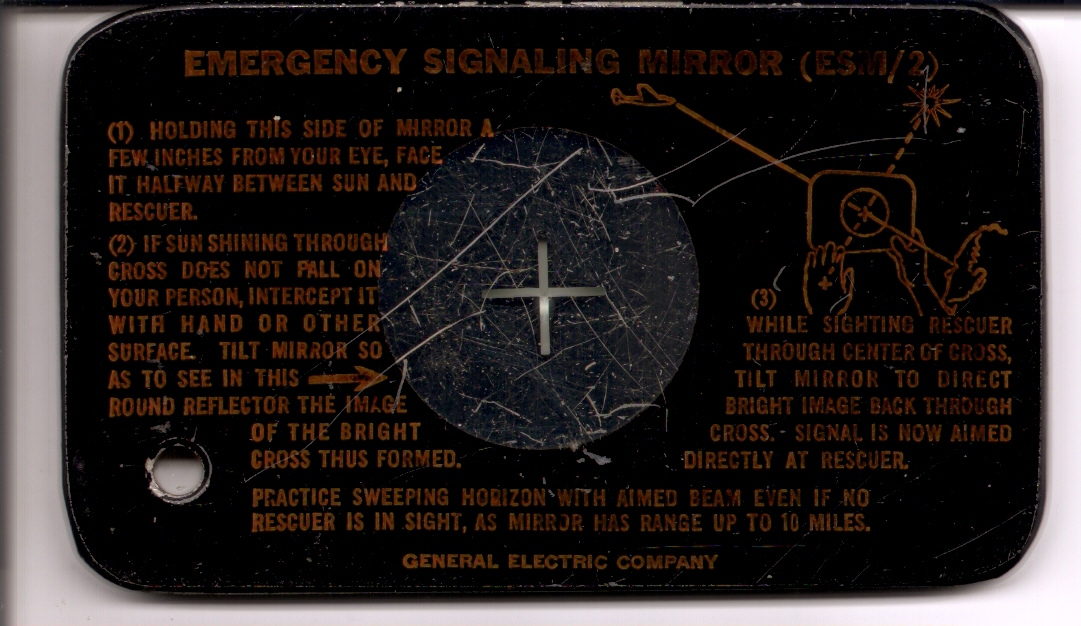 I assume this was part of the equipment given to my uncle, Albert Hoskins, who served in the Army Air Corp in 1944. Unless, Uncle Don, you brought this back from Korea?
The hole on the lower left was for a lanyard to go through so that it could be worn around the neck or otherwise secured.
The video below is a US government training film about the use of an ESM.
Here are a couple of links with additional pictures and information:
U.S. Militaria Forum
Anaspides.net C-1 Survival Vests
And a bit of trivia … The Smithsonian National Museum of American History has in its collection an ESM given by Julia Child:
Julia Child kept this signaling mirror in her kitchen junk drawer as a reminder of her service in the Office of Strategic Services (OSS) during World War II. Such mirrors were issued to members of the military, merchant seamen, and others, like OSS personnel, serving abroad. Julia's OSS duties took her to India, Ceylon (Sri Lanka), and China in 1944-45.
This mirror is model 40653, manufactured by General Electric. Small and compact, it could be used to signal for assistance over a 10-mile distance. Instructions for using the mirror are provided on the device, which also includes a braided lanyard for wearing around the neck.
Did Grandma or Grandpa keep this ESM in a drawer like Julia Child – as a reminder of their son's service?
Did the youngest brother in the family play with it as a boy?
Do you have an ESM among your family's memorabilia?