I have a couple of four generation photographs to share for Mother's Day.
I'm the baby in the arms of my great-grandmother, Dorinda Webber nee Strange. My grandmother, Abbie Smith nee Webber is on the left; my mom is in back; and my grandmother Eveline Hoskins nee Coates is on the right.
I was born in mid-October in Iowa, so it seems unusual that everyone is in short sleeves. The older ladies look a little dressed up, especially my great-grandmother, who is wearing a hat. Abbie's apron indicates that the picture was taken at her home and that she hosted a meal. I bet I was the guest of honor!
Everyone looks happy – well Abbie may be concerned about a roast in the oven. Or maybe the sun is shining just a bit in her eyes.
New life. A new mother. So much loving ahead. So many possibilities.
This next picture was taken several years later. It features Eveline on the left; mom in the back; and I am sharing a chair with my great-grandmother Mary Coates nee Harris.
My parents were divorced by this time and my mother and I lived with her parents – and so did my great-grandmother. Lots of love and hugs readily available for this young girl.
Whenever I look at this photograph, I get a little sad….. but not for a reason you would assume. It makes me sad because I had a better picture taken at the same time in the same pose. My grandmother's eyes were open…. we all just looked a little better.
And I lost it! How could I have been so careless?
I took it to church with me to share at a women's Bible study and I must have dropped it on my way to the car. I lost another picture at the same time of my grandmother Abbie. I didn't have a "second" of that one.
I can't remember the exact reason I took the pictures with me, but it had something to do with people (or women) who had had an impact on your life.
My grandmothers – as attested to in the name of this blog – had a profound influence on my life. As did my mother, of course. And my great-grandmothers. How lucky I was to be embraced by love every day – and to always be in the care and protection of my mother and grandmothers.
Mother's Day did not begin as a day to buy cards and send flowers and take your mother out to brunch. Or to share pictures of them on Facebook. Or on your blog.
The roots of Mother's Day in the United States began as a call to peace in 1870. And later as one daughter's remembrance of her mother who worked for that call to peace.
The women in my family, as I knew them, were nurturers and peacemakers – or peacekeepers. Their care and concern extended beyond their immediate families. I knew them to be women who had hearts.
And so I'll end with this link to 'From the Bosom of the Devastated Earth,' a History of Mother's Day for Peace by Matthew Albracht, published in The Huffington Post 05/07/2013.
And this excerpt from Julia Ward Howe's "Appeal to Womanhood Throughout the World" also called the "Mother's Day Proclamation", written in 1870 in the aftermath of the U. S. Civil War  and the Franco-Prussian War.
"Arise, then, women of this day! Arise all women who have hearts, whether our baptism be that of water or of tears!… We women of one country will be too tender of those of another country to allow our sons to be trained to injure theirs. From the bosom of the devastated earth a voice goes up with our own. It says "Disarm, Disarm! The sword of murder is not the balance of justice."
May we all have hearts that are tender and reject violence in its many forms in honor of those who nurtured us.
You can read the full text here: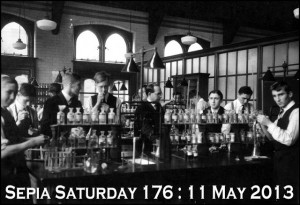 And, although I did not stick with the theme this week, this is my contribution to Sepia Saturday. Please pay other participants a visit.