When I was working on my last post, The Book of Me – My Birth, I found the gift cards from a baby shower and lots of other cards sent to my parents when I was born. I love the style of these cards from the 50s and, although I hate to admit it, these vintage cards date me as vintage too.
I thought I'd share a few of the cards – either because they are cute or depict the style of the day – or because I thought the present day descendants of the senders would like to see them.
This first one is strictly shown for its style.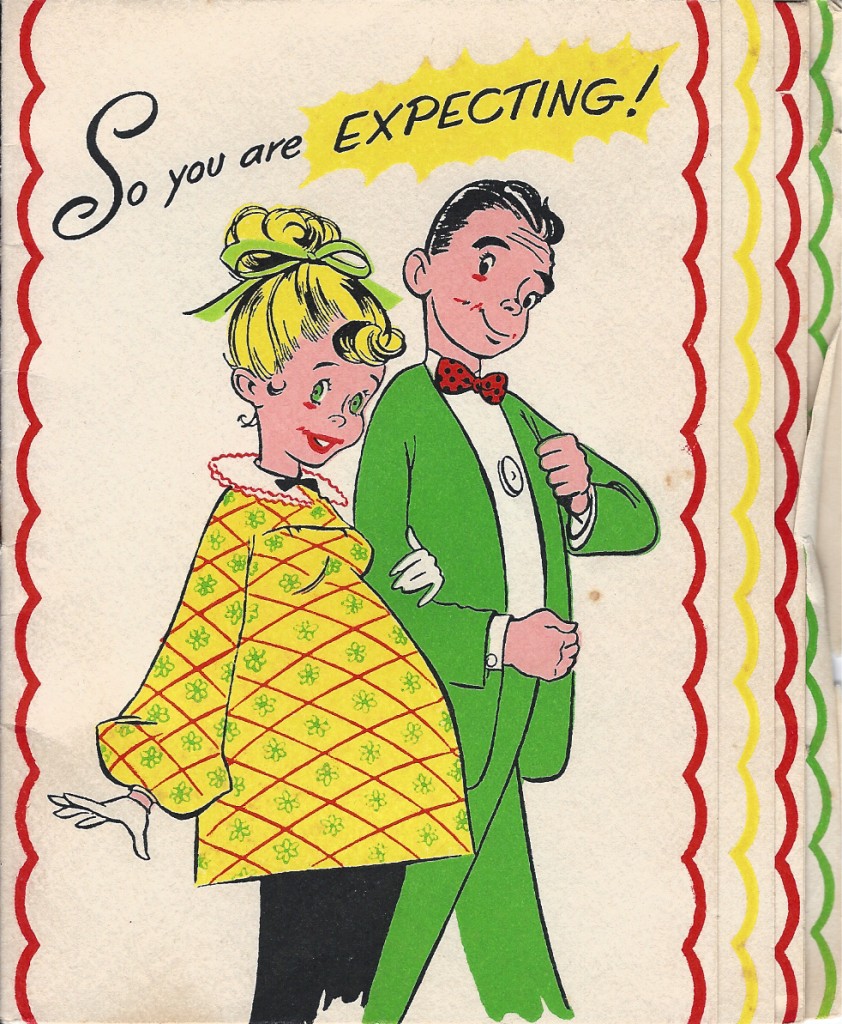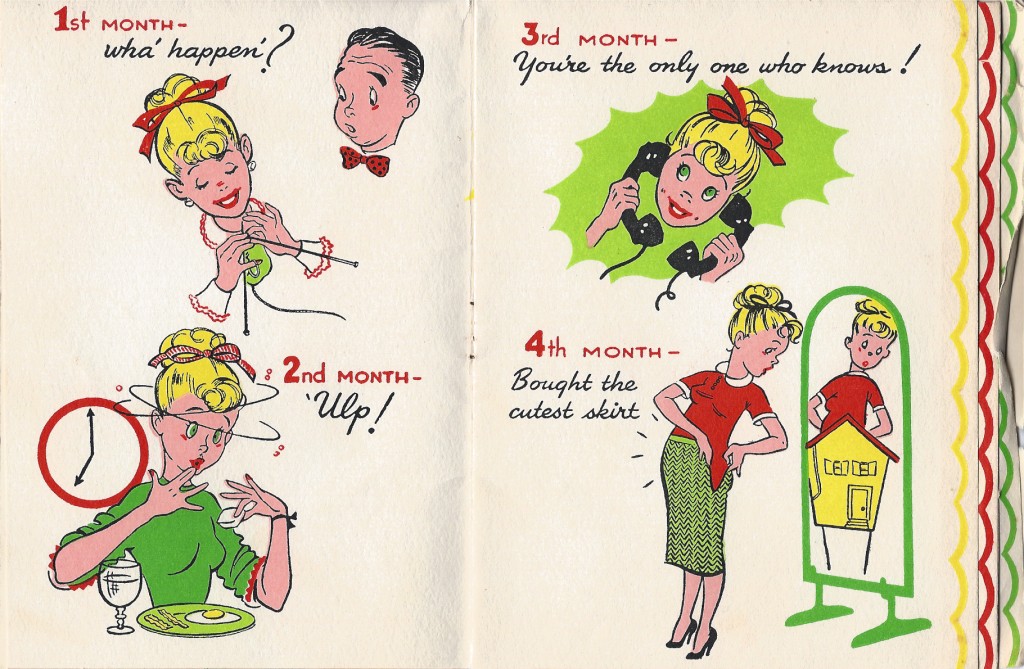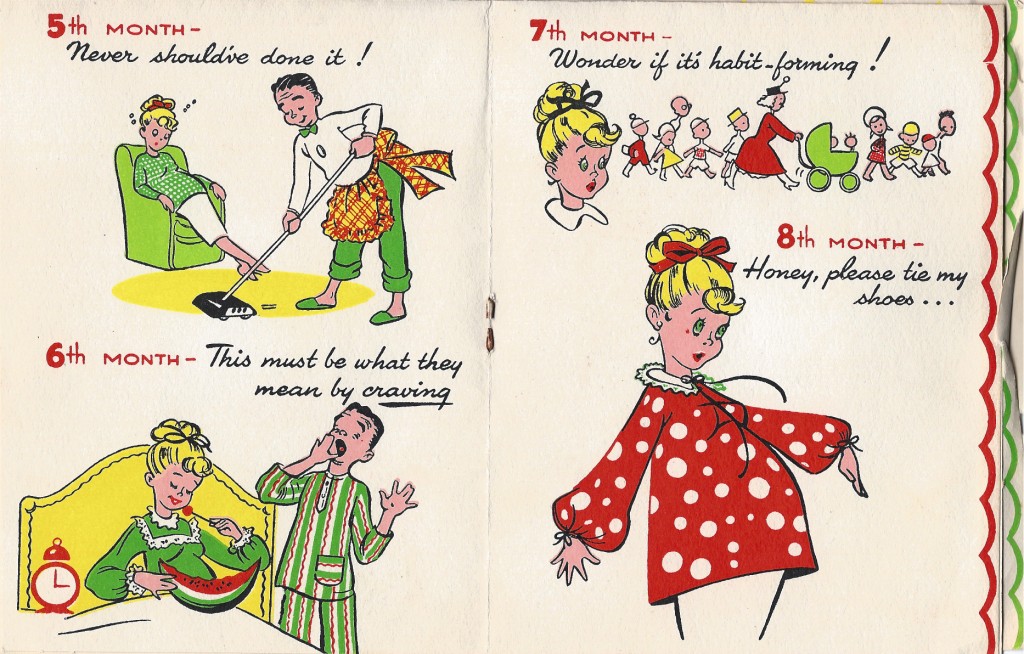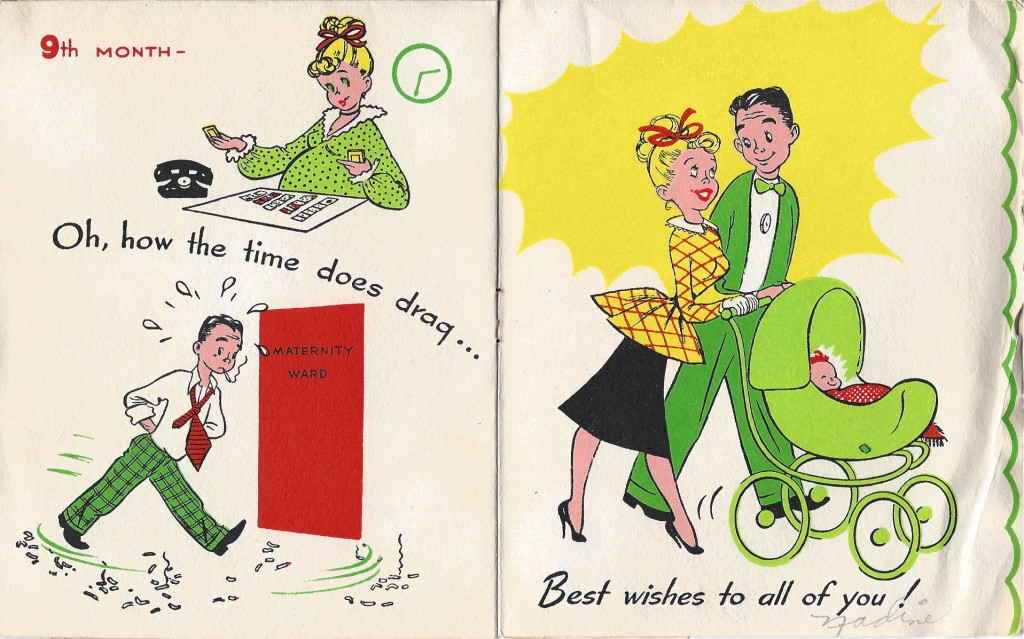 The card below is from my great aunt and uncle – Woodye Webber Kessler (my grandmother Abbie's sister) and Orville Kessler and their girls. This card is hand made – I assume by Aunt Woodye. All of the little babies are cut out – possibly from another card. I love the little diapers on the clothes line that she cut out and glued into place. And it is all so neatly done!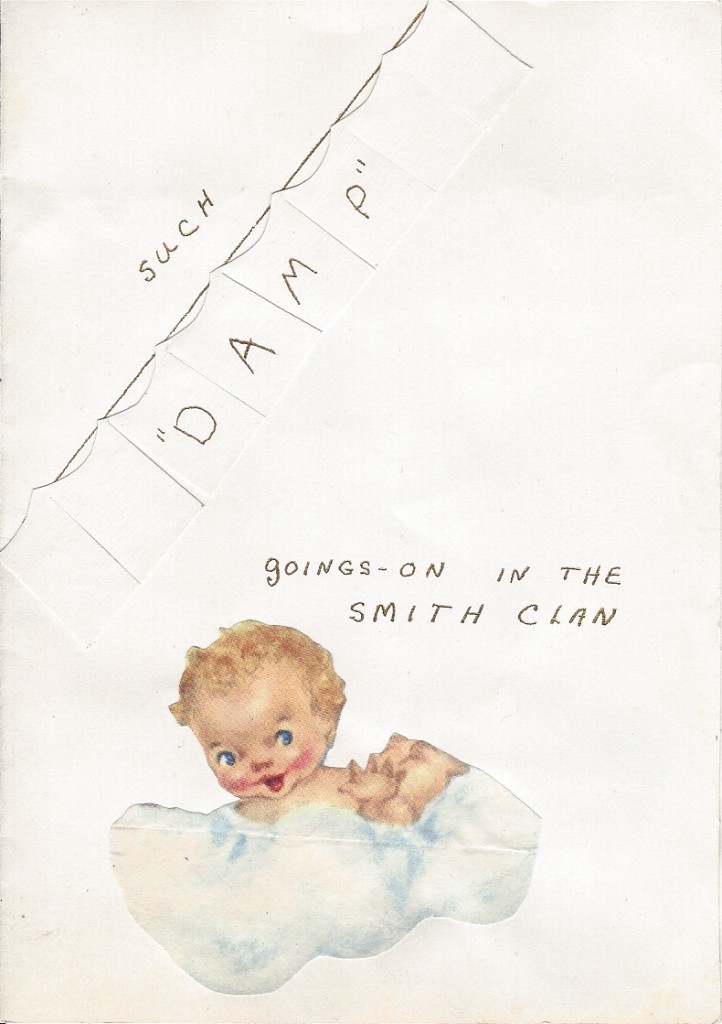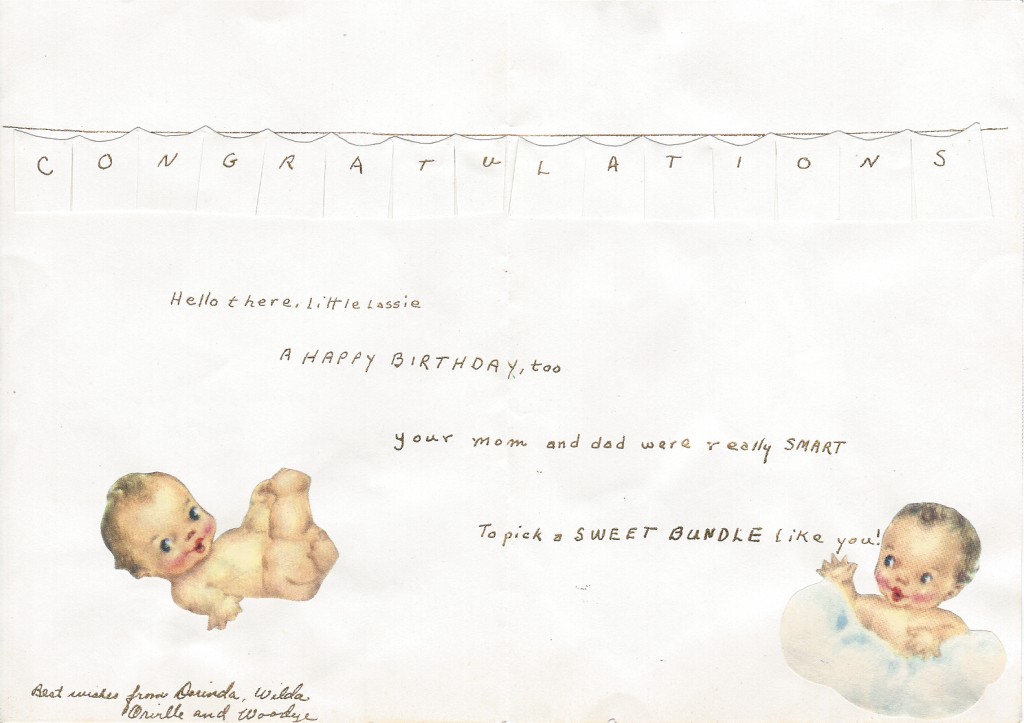 This note makes me want to know more.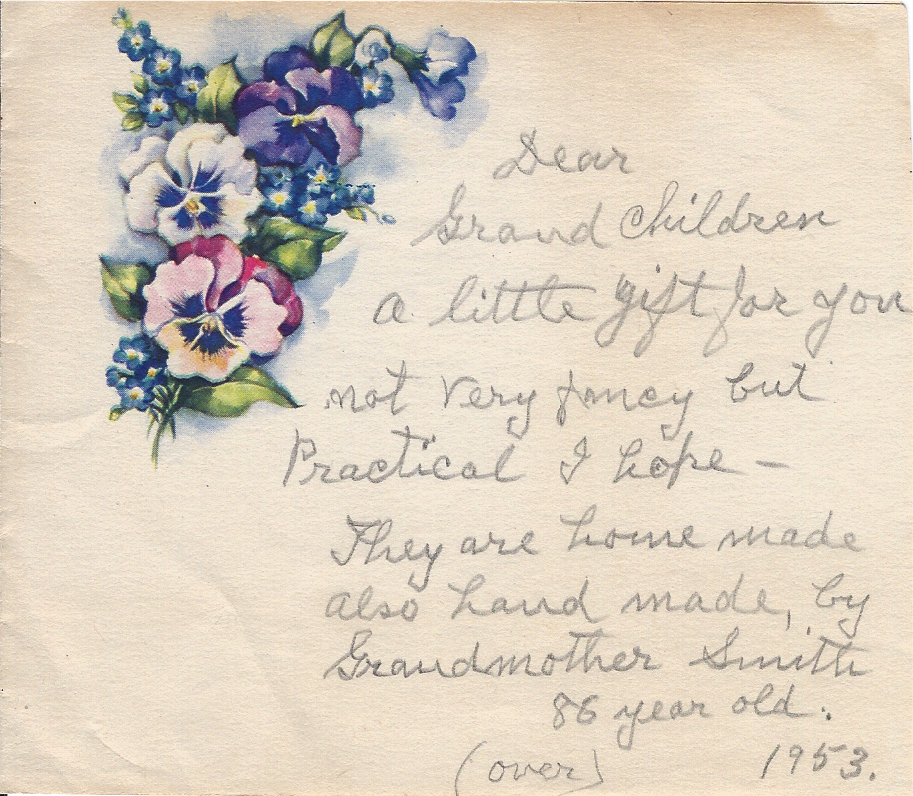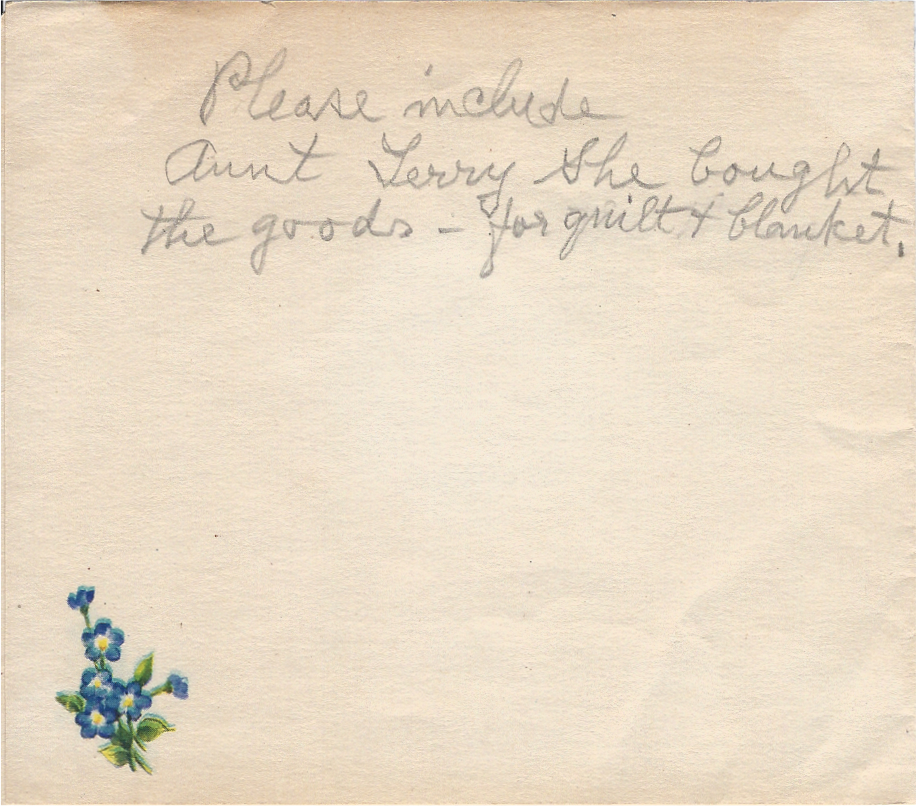 I don't know who wrote the note. It is addressed to "Dear Grandchildren" – I assume this means my parents. The note refers to Grandmother Smith – my Dad's grandmother. Did Grandmother Smith write this note about herself in the 3rd person? That's what it sounds like to me.
She apparently made a quilt and blanket for me. I never knew my Great-grandmother Smith and I didn't know that she made these gifts for me. I wish I could see them or know what they looked like!
I think this is the only picture I have of my Great-grandmother Smith. It looks to me like she is crocheting a big afghan or blanket in this picture. She must have been a woman who liked to keep her hands busy.
This last card is from my Mom's brother and his wife. (Click to enlarge.)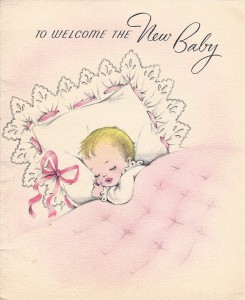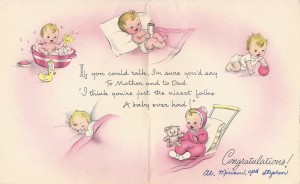 It looks like all of the cards were once glued into a scrapbook and later torn out. I also found a scrapbook page with a few notes (written by my mom) about a baby shower given by my Grandmother Abbie and a couple of other women. Grandma Abbie was a crafty lady – I bet she did the napkins folded to look like a baby gown – or at least found the idea for them.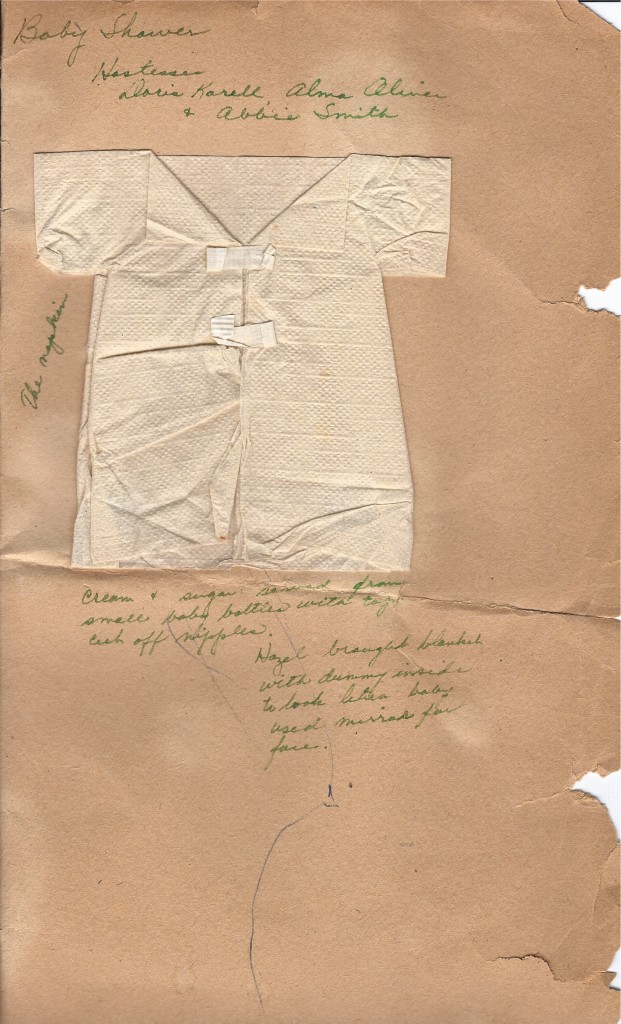 Baby Shower
Hostesses Doris Karell, Alma Oliver & Abbie Smith
The napkin
Cream & sugar served from small baby bottles with tops cut off nipples.
Hazel brought blanket with dummy inside to look like baby. Used mirror for face.
The scrapbook page is folded over and this is what is on the reverse.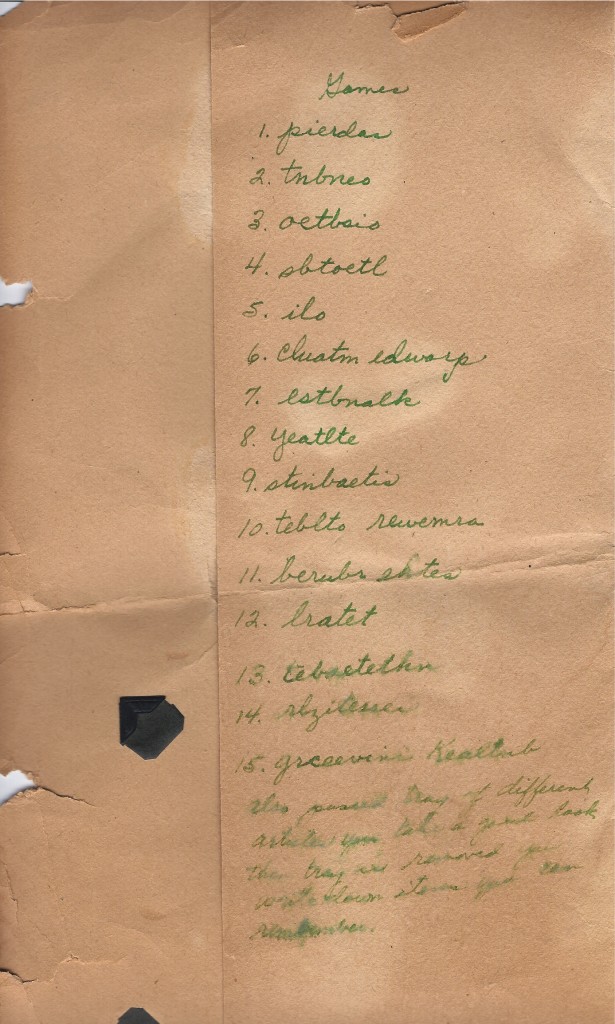 … the details of a couple of games that were played at the baby shower. The list looks like words to unscramble. The difficult-to-read note says: Also passed around tray of different articles you take a good look then tray is removed you write down items you can remember.
There are many more cards, but I think that's enough to share here. I enjoyed looking through all of them and imagining the ladies at the baby shower.