2016 Trip to Iowa Day 2
The moment I realized I would be happy every morning during this trip.
Then I increased my happiness by going to exchange my rental car for a more compatible model.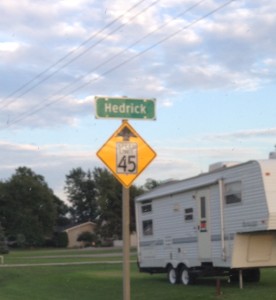 I called Dad(Jerry) and set off on the short drive to Hedrick for a visit. I have traveled the route from Ottumwa to Hedrick maybe a thousand times in my life – hundreds, anyway. It had been four years since I was last in the area, so I decided to set the GPS. That was a mistake. I would probably be driving through corn fields to this day had I not known where I was going!
Dad suggested we go to Bonaparte Retreat for lunch. I had never been there before and thought he said Bonaparte's Retreat. When I was doing a little research for the post, I learned that there are several recordings of a song with that title – by Glen Campbell, Willie Nelson, Kay Starr and others. I chose this particular recording because it is the oldest I found in my cursory search and we were on our way to an historic building. Also, could the name of the band be any more fitting for a trip to a restaurant?
Dad was my navigator and off we went without much time to spare. He figured it would be a 45 minute drive, but it took a little longer because a lane was closed on the highway. We arrived 10 minutes past closing time. People were leaving as we approached the door, but the waitress told us to "slip on in, just slip on in."
Bonaparte Retreat restaurant opened in 1970 in an abandoned grist mill along the Des Moines River in the village of Bonaparte, Iowa.
I chose the Pork Tenderloin for lunch, which the menu describes as "hand-breaded and made famous in historic Bonaparte." Pork tenderloin was made famous to me by my grandmother Abbie, who served it at my grandparents' truck stop. I only eat it when I am in Iowa – pork tenderloin is really not a thing in Texas. We had a table by a window with a view of the river. Dad usually enjoys a good conversation with a meal, but we knew we were holding up our waitress and others, so we didn't linger.
As we were leaving town I spied the genealogy society sign at the town library, so I had to stop, even though I was not at all prepared to do any genealogy research. Dad stayed in the car while I ran in to see what I could find. The genealogy society records consisted of notebooks on the top shelf of the small second room of the library. The helpful librarian retrieved notebooks for me while I tried to remember what family names matched this area. Oh yeah, SMITH. 😉
I got copies of a few family group sheets, but couldn't leave dad out in the car any longer, so I left. When I walked out, I found him chatting it up with a new friend on a park bench – a former blacksmith who had pointed out a brick building he had built (Dad was completely unimpressed by his masonry skills, but did not share his opinion until we were out of earshot.) It was a hot afternoon, so I thought we should call it a day even though I had not hit the notebooks containing obits, marriage records, and whatever else was there.
By the time we got back to Hedrick, I was in need of a little Bonaparte retreat myself, so I headed back to my peaceful B&B to rest a bit before driving out to get dad again. We met my sister and her husband for dinner at a little Italian restaurant in Ottumwa and enjoyed a good meal together.
Now that I am home, I've been going over the family group sheets I got while in Bonaparte. One set of information was submitted by Clarence Monnett Smith, a 1st cousin 1x removed. We have never met. The other group sheets did not provide the name of the compiler. I've been busy checking and adding some new information to my tree. And, of course, I couldn't stop looking for more. I fell into a genealogy "hole" all day yesterday and could barely crawl out at the end of the day.
I've decided to add a To Do List at the end of some posts as a reminder to myself.
The next time I travel to Bonaparte, Iowa, I should spend a little more time walking through the historic buildings, visit some pottery shops, and enjoy a few minutes by the river.
Optional visit to Bonaparte Cemetery to find Laura Sargeant. She was the wife of my great-grandfather Andrew Washington Smith, but we are not related.
Try to plan a thorough visit to Van Buren County. Ancestors lived in Vernon, Birmingham and Stockport. Read; find plat maps; follow up on the group sheets I brought home. I'd like to find old home sites and visit the cemeteries and any other places of interest.
Prepare to do some research in the county seat – Keosauqua.
Enjoy the Villages of Van Buren! The Scenic Drive Festival might be just the time to visit.
A few related posts:
Flying Solo – the 1st day of my trip
Charles' and Abbie's Place – a Sepia Saturday post about my grandparents' truck stop
Tombstone Tuesday: Smith in Bethel Cemetery – on my previous visit to Iowa