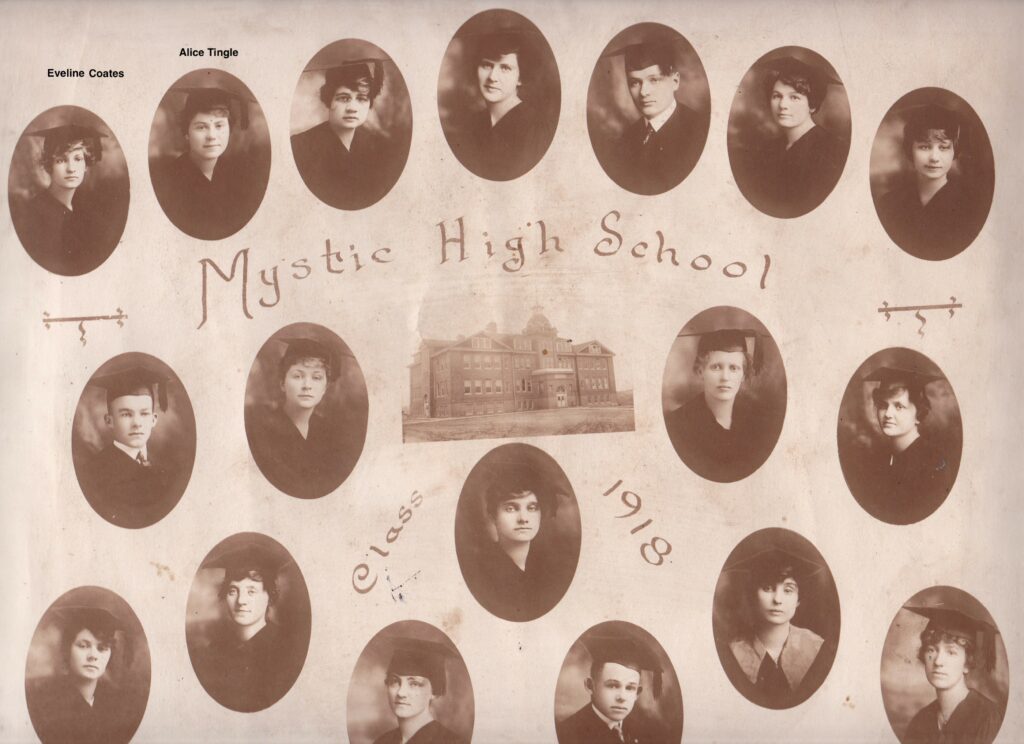 I shared a photo of my grandmother Eveline Coates' high school graduating class in Mystic, Iowa a few weeks (now months!) ago. Along with the photo and her diploma, a couple of other mementos were saved. One is the program for the Junior-Senior Banquet in honor of the graduating Seniors. It was interesting to see how World War I seemed to be the overarching theme of the festivities. I decided to take a deeper look at what her life may have been like during the 1917-1918 school year. There was a lot going on, a war and the beginning of an influenza pandemic to name the two biggies. The list of related posts is getting long, so I'll link them at the bottom.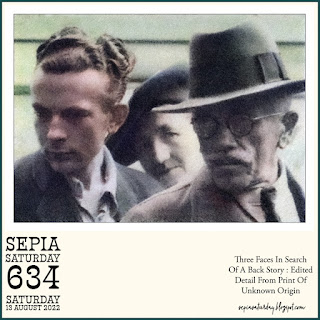 Alan's prompt photo and title provided the perfect words to describe this series: "Three Faces In Search Of A Back Story." This series about my grandmother during her senior year of high school has been a search for the back story to the military-themed senior reception her class celebrated in May 1918. I dived in deeper than I initially planned or expected and I have certainly learned a lot. Not so much about Eveline and her family in particular, but the family in the context of their time and place. I think today is a good time for me to look back at what I have learned so far. I have read a lot and searched so many news items, that I think I need a mini refresher as I begin to close the series.
I expected to read about the influenza epidemic hitting Eveline's home town. I didn't find cases of influenza. Instead, the prominent infectious disease was smallpox. Eveline had it in November 1917.
Eveline's older brothers, Carl and John, were required to register for the draft in June 1917. As a married man with a child expected any day, Carl was exempt from service. John awaited his draft number being called.
Eveline became an aunt for the first time when Carl's daughter, Pauline, was born in late June 1917.
Eveline hosted her classmates for a party in July at the covered bridge.
I learned a little more about the town of Mystic. The population was about 2700, the streets were unpaved, and it was experiencing a boom due to the increased production of coal. A large percentage of the population were immigrants, as were Eveline's parents. I located photos of several of the buildings in town and learned more about the Interurban, which ran between Mystic and the county seat, Centerville. And I learned about some of the entertainment and community gatherings of the time.
I had always wondered what mines Eveline's family worked in, where the mines were located, and where their home was located. I was able to map their locations. Carl and John worked mine #12, which was pretty close to their home. Brother Joe worked at Twin Mines. I was not able to determine where her father worked, but I would guess the #12. I learned that the town ran on "mine time," arising and eating and ending the day according to the mine whistles – the last one of the work day indicating if there would be work the following day. I could not find lists of union membership, but the miners had an active union, there were walkouts during this time, and I was surprised to learn that Mother Jones came to speak to the miners.
Some of the political issues of the time were enforcement of the "blue law" in the county, the national push for suffrage, and the temperance movement. Once the United States joined the war, things changed for everyone. The young men enlisted and the people of Mystic watched their "boys" leave for training and for France. Although I assume there was already a fairly strong commitment to civic life, once the nation joined the war, people were called upon to show their patriotism and support in new and numerous ways: through financial and volunteer support of the Red Cross, the Y.M.C.A., Liberty Bonds, War Stamps … And some immigrant populations, especially German immigrants, came under suspicion as possible supporters of the enemy.
There remains another likely influence on Eveline's life during her senior year that I have yet to write about – the politics of food.
I'll close with a postcard I recently acquired of Walnut Creek in Mystic.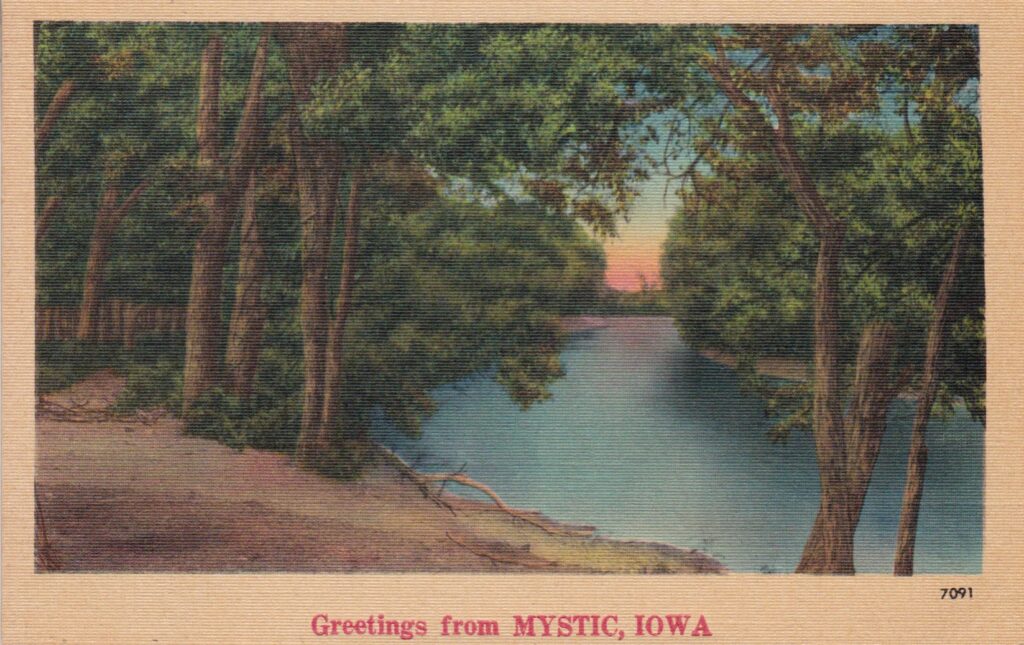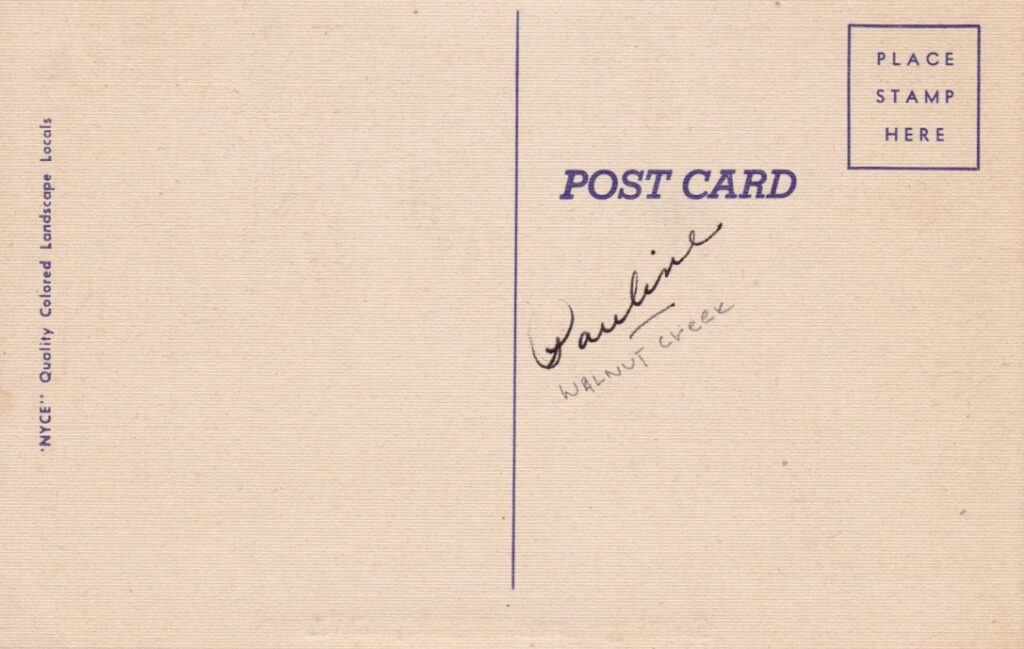 I have a couple of undated photos taken at Walnut Creek, several years later than Eveline's senior year of high school, I think.
And this one of Alice Tingle. Alice is next to Eveline in the class photo at the top. Alice married Eveline"s brother Joe.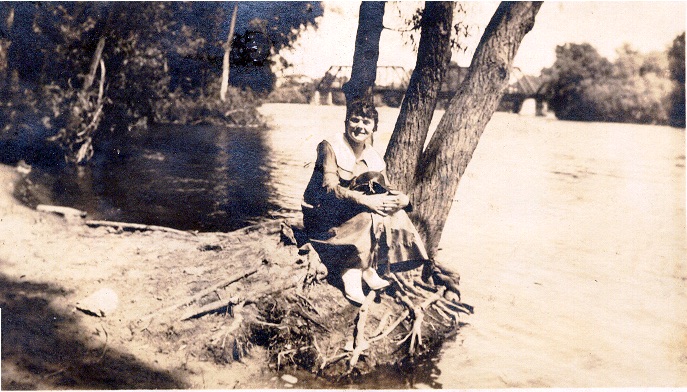 Please visit other Sepia Saturday participants here: Sepia Saturday.
If you would like to read other posts about Eveline's Senior Year, you can find them here:
Eveline's Senior Year, Part 1
Eveline's Senior Year: The Draft and a Carnival
Eveline's Senior Year: A Look Around Town
Eveline's Senior Year: Musical Notes
Eveline's Senior Year: Smallpox
Eveline's Senior Year: What are you Serving?
Eveline's Senior Year: Root Beer on the 4th
Eveline's Senior Year: Miners, Miner and Maps
Eveline's Senior Year: The Weight of Mining
Eveline's Senior Year: Gatherings and Gossip
Eveline's Senior Year: Knit Your Bit